Team Luton finished 10th in Division 1 of the 2017 National Arena League (London) after a valiant effort in third and final round which we just failed to win.
We were eclipsed by just 4 points by both Brompton and Potters Bar "A". It was a particularly commendable performance given the fact that we scored no points in four races where we were unable to field a swimmer
Going into the final round at the Hertfordshire Sports Village we had the same number of league points as 9th placed Brompton who had been relegated the previous season from the Premier Division.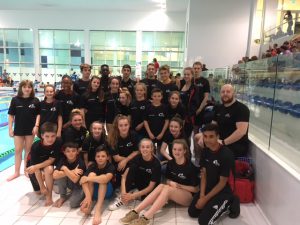 Round 1 saw us travel to Lewisham in high spirits, looking forward to racing some of the best swimmers in the London league. The coach journey provided a chance for all the swimmers to come together and transfer that team spirit into their racing. For some of our younger swimmers it was their first taste of Arena League action and the fun that brings. A valiant effort by all saw us finish in 6th position.
The second round was at our "home pool", Inspire. With some of our older swimmers at the British University Championships and a few swimmers struck down with illness, the coaches rallied the troops and sought a huge team effort where everyone had to play a slightly larger role than usual. With no hesitation, the swimmers took up the challenge head on and delivered what was to be a brilliant night of racing. Many new PBs and races won with the highlight perhaps in  winning the girls' canon relay at the end to see us finish in 4th place on the night.
Well done to everyone; you did Team Luton proud!
The final Division 1 results were:
League Table after Round 3
Gala Points
League Points
Rd.1
Rd.2
Rd.3
Total
Rd 1
Rd.2
Bonus
Rd.3
Total
Posn.
Leander
295
279
276
850
8
8
20
16
52
1
Bishops Stortford
267
254
263
784
7
6
20
14
47
2
Dunmow Atlantis
262
265
249
776
8
7
20
10
45
3
Anaconda
226
275
259
760
4
8
20
12
44
4
Bexley
247
251
211
709
6
6
20
8
40
5
Borough of Harrow
235
252
207
694
5
7
20
6
38
6
Greenwich Royals
245
224
186
655
5
5
20
4
34
7
Saxon Crown (Lewisham)
244
202
143
589
7
3
20
2
32
8
Brompton
237
202
254
693
6
2
16
24
9
Team Luton
212
225
250
687
3
5
 
12
20
10
Potters Bar A
209
211
254
674
3
3
14
20
11
Wandsworth
217
194
246
657
4
2
10
16
12
Hemel Hempstead
174
218
216
608
2
4
8
14
13
Haringey Aquatics
199
211
211
621
2
4
6
12
14
Harpenden
175
167
207
549
1
1
4
6
15
Berkhamsted
140
153
153
446
1
1
2
4
16