Our swimmers compete in World, European, National, regional and local competitions in varying numbers throughout the year.
The times recorded by three of our Masters saw seven of their swims included in FINA's 2021 listings of the top ten fastest in the world. We await the 2022 listings that should be published in the Spring of 2023.
As of the start of 2023, twelve of our current squad held 61 Short Course and 68 Long Course Beds County Masters & Seniors records over distances ranging from 50m to 1,500m, as well as five relay records. They also held 23 Short Course and 13 Long Course Eastern Region records. Such is the breadth of talent and age range of our squad.
A great feature of all our competitive swim meets is the friendship and support shown poolside to everyone. Personal achievements however small or large are always acknowledged.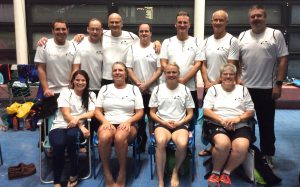 Click on the links below for details of some of our recent past successes at Masters competitions.
2022
After two years of interrupted training, our Masters endeavoured to shake off their competitive cobwebs claiming numerous East Region, County and Club records along the way.
Kelly Cooke and Karen MacKenzie claimed their first British Long Course titles.
It was also encouraging to see some of our "younger" members return to competition and others having their first experience of Masters' meets.
2020 – 2021
Despite the Covid-19 pandemic bringing a rapid early halt to all swim meets in 2020, our Masters had still managed by March to set three new East Region and 17 Beds County records. Five of our Masters were already signed up to compete in the Europeans ….until they were cancelled. Roll forward 18 months and the Masters were immediately back in County record- breaking form….leading up to one of the Club's best ever performances at the Swim England National Masters Championships.

Jo Mitchinson was subsequently named by FINA in their 2021 World Masters rankings as 3rd fastest (1500m Freestyle), 6th (400m Freestyle) and 7th (200m Backstroke) in the Ladies 40 – 44 years' age group. Dave Wright was 6th (Men's 60 -64 years' 200m Butterfly) and Graham Powell 5th (50m Back), 6th (100m Back) and 10th (200m Back) in the 65 – 69 years' age group.
2019
It was in many ways a  year for the Ladies, setting their first Beds County relay record whilst breaking into GB's Top 50 Decathlon Teams, despite not competing in the maximum potential number of qualifying events. Individual male honours included long-standing member, John O'Rourke, win his first ever GB medals whilst our 60 -64 years' Medley Team still recorded the 10th fastest time in the world despite all being a year older.
2018
Our 60 – 64 years' Mens 400m Medley relay recorded the 7th fastest time in the world whilst at the other end of the age spectrum Sam Bradley collected his first Beds County Masters record. Alex Mason meanwhile added Welsh Seniors medals to his English collection.
2017
The year saw an expanding squad with younger swimmers returning or joining the Club and quickly achieving personal successes. Our Men reached the Top Ten in the GB Team Decathlon competition for the first time. Three of our swimmers competed in the World Masters championships in Hungary.
2016
Individual glories came thick and fast, topped by Graham Powell breaking a British record at the GBs and going on to win two medals at the European Championships in London. Karen MacKenzie went from setting her first (of what has since been many) Beds County records to competing on the European stage .
2015
National success came across the board, be it in Open Water or in the pool at the British Long Course or English Nationals. We also retained the Top Non-Midlands Team Award at the "end of season" Etwall Masters Meet.