Welsh Medals End Masters' Year
(Swim Wales Open Masters – November 2021)
The final Masters' competition of 2021 saw Team Luton win one gold, six silver and two bronze medals at the Welsh Open Masters Championships held in Newport.
Kelly Cooke smashed the Club's own 200m Freestyle record for the 45 – 49 years' age group as she stormed to victory in a time of 2:32.40. She also swam below 31 seconds in her 50m Freestyle for only the second time. Her strong finish saw Kelly claim a bronze medal by just 0.08 seconds. With a silver in the 50m Backstroke, Kelly was also marginally outside her personal best when earning 4th place in her 50m Butterfly.
Competing in the 60 – 64 years' age group, Alastair Gibb beat his entry times in all four of his races in events that he had not swum for over two years. Alastair was rewarded for his efforts with three silver medals (200m Backstroke, 200m Breaststroke and 200m Freestyle) and a bronze (100m Backstroke).
Malcolm Barton took home silver medals in the 65 – 69 years' 100 and 200m Breaststroke. Misjudging his pacing, Malcolm left too much in reserve for the final 50m of the longer event and so narrowly failed to beat the County record that he had set the previous month at the English National Masters.
Best Ever Performance At National Masters
(Swim England Masters – October 2021)
Our Masters gave one of their best ever performances at the Swim England National Masters Championships securing a grand total of 2 Gold, 6 Silver and 7 Bronze medals whilst setting 5 East Region, 15 Beds County and a further 6 Team Luton Club Masters records.
 Jo Mitchinson set the standard for the weekend in the very first event, the 1500m Freestyle. Breaking the regional and county record in her 40 – 44 years' age group at the 800m stage, she went on to claim a Bronze in a time of 19:16.04. That broke the East Region record by 57 seconds whilst her 800m split was 27 seconds under the old mark. Jo subsequently won her 200m Backstroke by over 10 seconds, just 0.2 seconds outside her own record times set earlier in the month.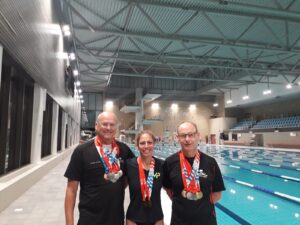 In the 45 – 49 years' age group, Kelly Cooke smashed her previous best 100m Freestyle by over 3 seconds to set a new Club Masters record of 1:07.42, finishing in 8th place. A similar placing and club record was achieved with her fastest ever 50m Freestyle when Kelly clocked 30.81 seconds. Kelly also claimed 6th place in her 50m Backstroke.
In the Men's 25 – 29 years' age group, Sam Bradley continued his recent habit of hitting his entry times, being just 0.08 seconds outside his entry in his 100m Freestyle. Competing in five events in a hotly contested age group, Sam's best placing came with 6th spot in his 200m Backstroke.
Dave Wright was the Club's other 2021 National champion demolishing the East Region's 60 – 64 years' 200m Butterfly record by over 41 seconds. His winning time of 2:46.83 was only 0.13 seconds slower than the time he recorded back in 2017 when he finished third. It was faster than his winning time from 2018. In a weekend swimming a total of 1,700 m over ten events, including five relays, Dave collected a total of seven medals. He claimed an individual silver medal in his 200m Backstroke and bronze in both his 200m Individual Medley and 200m Freestyle. His marginally quicker lead split of 2:26.25 in the 4x200m freestyle relay took 2 seconds off the County Masters record for that event.
In the same age group, back competing on the national stage after a four-year absence due to health reason, Alastair Gibb was rewarded with a bronze medal for his 400m Individual Medley. He also secured top ten finishes in his 100m and 200m medleys and 100m Breaststroke whilst being a member of all five relay teams.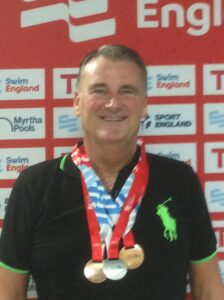 Competing against doctor's orders, Graham Powell still came away with three individual silver and one individual bronze medal from the 65 – 69 years' age group. His time of 34.21 seconds in his 50m Backstroke was an East Region record. Graham also demolished the regional and Beds County records by over 23 seconds in his 100m Butterfly whilst setting new county figures for the 50m. A further county record came with his 31.59 seconds lead split in the 240+ years' 4 x 50m Freestyle relay. Despite being below par, Graham also sacrificed personal glory by competing in the 4 x 100m Medley relay minutes before his favoured 50m Butterfly where he missed the silver medal by just 0.02 seconds and the East Region record by just 0.14 seconds.
Malcolm Barton was in impressive form even though most of his post lockdown training had been in public pool sessions. He set new County records over both the 100m and 200m Breaststroke by 2 and 12 seconds respectively, placing 5th in each. He also took 30 seconds off the County 65 – 69 years' record in the 400m Individual Medley to claim a bronze medal less than 20 minutes after his 200m Breaststroke.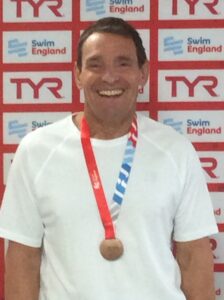 In the same age group Colin Mayes broke his own Beds County 50m Breaststroke record by almost 2 seconds in a time of 40.49 seconds. His best placings came with 6th position in both the 100m Freestyle, in a club Masters' record time, and 200m Breaststroke.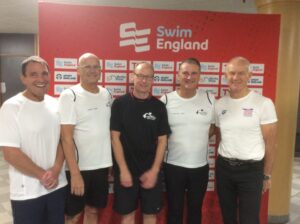 The quartet of Wright, Gibb, Mayes and Powell claimed a silver medal in their 4 x 200m Freestyle relay with a time of 10:47.49 lowering the club's own County record by 20 seconds. Powell, Barton, Wright and Gibb also claimed a silver medal in the 4 x 100m Medley relay whilst a surprise relay medal came with the 4 x 100m Freestyle, where Malcolm Barton stood in for Graham Powell. Two further Beds County relay records were claimed in the Men's 240+ years' 4 x 50 Medley and 4 x 50m Freestyle relays.
The full Team Luton results may be accessed here whilst the latest Masters' Club records, including the times from the Nationals may be found here.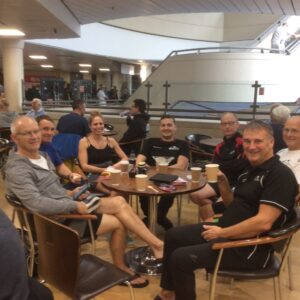 As ever the Nationals provided a great social weekend away for the Masters' squad, even though the social distancing measures in places around the Ponds Forge pool in Sheffield reduced the atmosphere and opportunities to mix with friends old and new from other clubs. It also meant that photo opportunities were reduced but some of the swimmers still managed to gather between races for their customary cups of tea. (Other beverages were consumed away from the pool!)
Regional Masters' Record Breakers
(East Region Masters' – October 2021)
Three East Region and seven County Records were claimed by Team Luton's swimmers at the East Region Masters Championships.
Graham Powell was victorious in all three of his Backstroke races. He clipped 0.12 seconds off the regional 65 – 69 years' 50m record to set new figures of 34.57 seconds but his time of 1:15.87 missed the 100m record by just 0.26 seconds.  Graham's times in the 100m and 200m (2:52.91) were however new Beds records by an impressive 5.86 seconds and 7.08 seconds.
Jo Mitchinson's time of 4:50.94 knocked 7.37 seconds off the East Region's Ladies 40 – 44 years' 400m freestyle record, reducing her own County record by 11.36 seconds. Her 200m split time of 2:21.98 was also a new Beds record for that age group. A second regional record by over three seconds came with Jo's winning time of 2:35.29 in her 200m Backstroke, a reduction of over 15 seconds on the County record.
For Covid safety reasons no medals were awarded at the championships but, in touching second in her 100m Butterfly, Jo had the consolation of also destroying the Beds record in that event by over 15 seconds to set new figures of 1:15.02.
In the 45 – 49 years' age group, Karen Mackenzie won the 50m Backstroke in 37.60 seconds, just 0.06 ahead of her younger clubmate Kelly Cooke. In the 50m Freestyle, Kelly reversed the tables to touch first in 31.87 seconds, some 0.84 seconds ahead of Karen. A further second place was claimed by Karen in her 200m Individual Medley.
County Records On Masters' Competitive Return
(Barnet Masters Sprints Plus Meet – September 2021)
After 18 months' absence due to the Covid pandemic, seven of our Masters squad revelled in being back in competition, all winning medals at the Barnet Masters Sprint Plus Meet. They won a total of 10 Gold, 8 Silver and 1 Bronze medal whilst three were also in County Masters record-breaking form.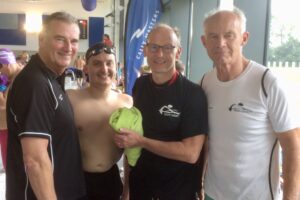 Keen to test his speed and endurance, twenty eight year old Sam Bradley competed in no fewer than seven of the twelve events held over the two sessions. His efforts were rewarded with gold medals in his 25 – 29 years' 400m Freestyle, 100m & 200m Individual Medleys and 50m & 100m Backstroke.
Alastair Gibb also tested himself by entering five events in the 60 – 64 years' age group, bringing home one gold, three silver and a bronze.
Competing in the same age group, the Club's Assistant Head Coach, Dave Wright, attempted (and perfected) a negative split strategy to win his 400m Freestyle in a new Beds County Masters record of 5:09.66. Dave followed that with a win in his 50m Butterfly (33.69 seconds) and a silver in his 50m Freestyle, touching just ahead of Kelly Cooke and Karen Mackenzie who were swimming in the same heat of the Mixed 50m Freestyle event.
Colin Mayes claimed a new Beds County 65 – 69 years' record time of 42.18 seconds in finishing second in his 50m Breaststroke, whilst coming 4th in his 50m Freestyle. Both were Club Masters' record times.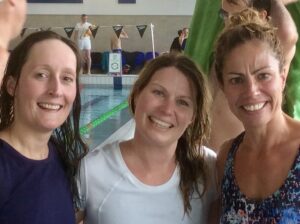 For the ladies, Jo Mitchinson smashed the 40 – 44 years' Beds 400m Freestyle record by over 30 seconds. Her winning time of 5:02:26 was all the more remarkable as it was achieved by going under the County records for her age group at both the 100m and 200m stages. Her swim even included some backstroke as Jo fought to complete the race and overcome breathing difficulties.
Kelly Cooke and Karen Mackenzie both demonstrated they had not lost any of their sprinting prowess, finishing 1st and 2nd in their 45 – 49 years' 50m Freestyle. They each claimed a silver medal for their respective swims over 50m Butterfly and 50m Backstroke, with Kelly's fly time being a new Club Masters' record.
Four More County Records
(Bracknell Masters – March 2020)
A further four Masters' Beds County records were broken at the 2020 Bracknell Masters meet with all six of our swimmers who competed sharing in the 16 medal haul.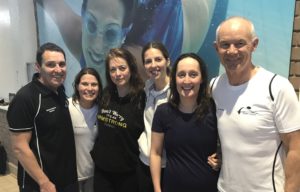 Colin Mayes and Malcolm Barton registered a double act in the Men's 65 – 69 years' age group claiming the first two places in both the 100m Individual Medley ("IM") and 100m Breaststroke. In the latter event both finished five seconds inside the old record that had stood since 2006, with Colin edging out Malcolm by half a second in a time of 1:31.48. Malcolm had the consolation of subsequently taking over 26 seconds off his age group's 200m Butterfly County record.
After a troublesome shoulder injury, it was good to see Karen MacKenzie back to winning ways in the Ladies 45 – 49 years' 50m Backstroke and 50m Freestyle. Karen also collected a bronze for her 100m IM.
Kelly Cooke was once more in record breaking form beating her own County record in winning the 40 – 44 years' 50m Backstroke in a time of 36.61 seconds. Coming within less than 0.3 seconds of the County records in both her 50m Butterfly and 50m Freestyle, Kelly won a further gold and a silver medal. Team-mate, Michelle Neal claimed the silver and bronze medals in both of those events to go with a silver for her 100m IM.
Competing in the 35 – 39 years' age group, Jodie Armstrong claimed a bronze medal for her 200m Freestyle. Finishing 4th in her 100m Backstroke, Jodie missed out on the  Beds County Masters record by just 0.08 seconds. However, she demolished the 5 year old 200m Backstroke record with her winning time of 2:51.80 – Jodie's first County record!
Medals and records For Jo Mitchinson
(Welsh Long Course – February 2020)
Jo Mitchinson set an East Region and 4 new Beds Masters records in the 40 – 44 years' age group with her winning swims at the Welsh Masters Long Course Championships.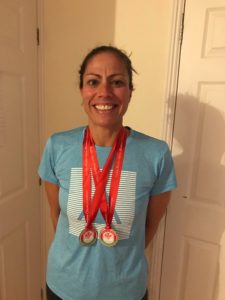 Jo's 200m Freestyle time of  2:21.53 broke the East Region record by 6 seconds whilst her time of 2:47.62 in the 200m Butterfly set new figures for the County's 40 – 44 years' age group record. Her 100m splits of 1:20.82 and 1:08.23 were both new Beds records; Jo's freestyle split breaking the record club mate Kelly Cooke had only set back in January.
Record Breaking Start To 2020
(South East Long Course – January 2020)
The seven Masters & Seniors competing at the South East Long Course Masters in Crawley established 2 new East Region and 9 new Beds County records, as they brought home 6 Gold, 3 Silver and 2 Bronze medals.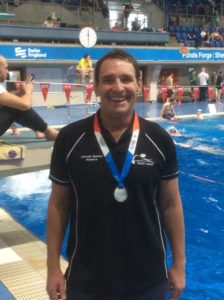 Malcolm Barton made the most of his first meet up in the 65 – 69 years' age group, winning all four of his events, the 100m & 200m Breaststroke plus the 200m & 400m Individual Medley. He demolished the previous Beds County records in all four events. His times of 1:34.57 and 3:23.74 in the Breaststroke races were also new East Region records by margins of 6.55 and 17.47 seconds respectively. Just for good measure his 100m Butterfly split to kick off his 400m IM was also a new Beds record for his age group.
Sam Bradley lowered his own 25 – 29 years' Beds 200m Backstroke record by 3.4 seconds to win in a time of 3:02.04. Competing in five events in one day, Sam also collected a silver from his 200m IM whilst finishing 4th in his 400m Freestyle.
Laura Smith earned her first Beds County Masters record with her winning time of 39:00 seconds in the 25 – 29 years' 50m Breaststroke. That broke the previous record by 1.39 seconds . She followed this with two 5th places in her 100m Freestyle and 50m Butterfly.
Competing in the 18 -24 years' age group, Alice Pinney claimed two silver medals for her 400m & 800m Freestyle swims.  Alice also finished 3rd in her 200m whilst touching 5th in the 50m Freestyle.
Jodie Armstrong claimed her first South East medal touching 3rd in the 35 – 39 years' 100m Butterfly, missing out on a Bronze in the 50m event by just 0.7 seconds.
Kelly Cooke came even closer to a medal finishing 4th in her 40 – 44 years' 50m Butterfly. Her time of 36.54 was just 0.21 seconds away from Bronze but Kelly had the consolation of taking 1.71 seconds off the County record for her age group. That followed on from a County record of 1:10.06 over 100m Freestyle, a 4.06 second improvement on the 2013 record.  Kelly touched 9th with Michelle Neal coming 12th in a personal best long course time, within the 2020 GB Masters qualifying standard.