Are you nearly 18 years old or over and interested in competing, open water, triathlons or just swimming for fitness?
Our Masters & Seniors squad welcomes adult swimmers of a wide range of abilities wishing to train with others.  Friendly banter is a regular feature of the training sessions.
If you are interested in joining, contact masters@teamluton.com or come along to see one of our sessions. Full details of training times and locations are shown under Training Sessions. We can offer you a free trial session. Just be aware that we do not teach adult swimming and to participate you really need to be comfortable swimming three strokes and repetitions of up to 200 metres freestyle. Nevertheless we do appreciate it may take time to build up your stamina.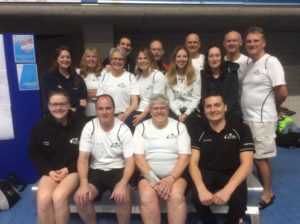 Read Under The Surface to gain a greater insight about some of our members or Prior Year Competitive Successes to learn of past glories.