The club provides three training sessions per week at Inspire and three at Lewsey Park in dedicated lanes (see days and times below).
A number of the competitive swimmers also meet and train at quieter times in public lanes.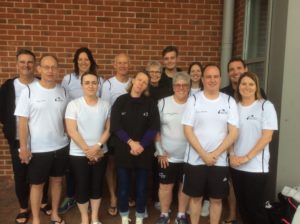 At Inspire (configurable to 25m and 50m)
* Tuesday morning 5:30am to 7:00am (25m) – 4 lanes
* Wednesday morning 5:30am to 7:00am (50m) – 2 lanes
* Thursday evening 7:00pm to 9:00pm (25m) – 4 lanes
At Lewsey Park (25m pool)
* Wednesday evening: 7:30pm to 8:30pm – 2 lanes
* Saturday morning: 8:00am to 9:00am (25m) – 3 lanes
*Sunday morning: 8:00am to 9:00am (25m) – 2 lanes
An ex-Masters World champion, Pauline Harrington is the Masters squad coach, providing the training sets for each session. She is assisted by Level 3 Coach Jane Cattle who takes the training on Thursday evenings. Pauline and Jane both provide stroke improvement suggestions.
The monthly training fee that you pay depends on the number of weekly sessions that you propose to attend.
We can offer you a free trial session. Just be aware that to participate you really need to be comfortable swimming three strokes and repetitions of up to 200 metres freestyle. Further details can be found in our squad criteria section.