Swim Wales SC, Barnet 1500m & Etwall Masters- November 2018 – National Medals, County Records & Decathlon Points
WELSH NATIONAL MEDALS, COUNTY RECORD & MORE DECATHLON POINTS
For many the Swim England Nationals in October is the end of the competitive year for our Masters & Seniors. Not so for Alex Mason, Sam Bradley & Tom Lambert who have all won further accolades.
At the Swim Wales Masters Short Course Championships, held in Newport, Alex, aged 22, won all three of his events in the 18 – 24 years' age group. A time of 32.63 seconds in the 50m Breaststroke saw him touch half a second ahead of the second placed swimmer. Alex's time of 1:12.12 in his 100m Breaststroke secured him a more comfortable winning margin of over two seconds.
A third Gold medal came from Alex's 200m Backstroke. His time of 2:15.82 was a Masters' personal best time, as was his 50m Breaststroke.
Away from the national stage, Sam Bradley has collected his first Beds County Masters record. He finished 3rd in the 25 – 29 Years' Barnet Masters 1500m Freestyle in a time of 21:31.21.
Tom Lambert meanwhile won all six of his 18 – 24 years' events at the Etwall Masters meet in Derbyshire. Earning the Club valuable team points for the GB Decathlon competition, all of Tom's swims were personal bests since returning to competitive swimming this year.
National Short Course – October 2018 – Eleven National Medals
ELEVEN NATIONAL MASTERS & SENIORS' MEDALS
Team Luton has three more Swim England National Champions! Well done Alex Mason, Dave Wright and Graham Powell.
Great performances at the 2018 Swim England National Masters saw the Club's Masters & Seniors squad bring home three Gold, three Silver and four Bronze individual medals and a relay Silver. Swimming in over fifty events, all ten of our competitors with ages ranging from 22 to 62 years recorded lifetime or season's best times. Three new Beds ASA County Masters records were established.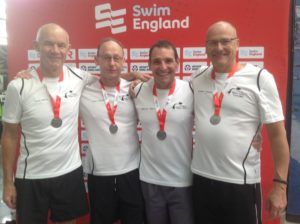 Our Skills Coach, Alex Mason, aged 22, swam a lifetime best of 2:13.54 in the 18-24 years' 200m Individual Medley ("IM") to claim the first of four individual medals. Silver medals followed in both the 400m Freestyle and 400m IM, with Alex also collecting a Bronze over 200m Breaststroke. Just for good measure, Alex also helped the GB Police's Mixed 72+ years' 4 x 50m Freestyle relay to a silver medal with a split time of 26:04 seconds. Had he been swimming as Team Luton, Alex would also have recorded a new Seniors' County record in the 400m IM, improving on his 2017 winning time by 0.14 seconds.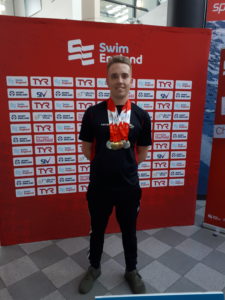 After swimming with the club as a teenager, Tom Lambert (23) returned to training in late Summer and competed in September to gain the necessary qualifying times for the Nationals. The training is already paying dividends as Tom smashed all of his entry times. He finished 4th in the 18-24 year' 200m Breaststroke, 6thin the 400m Freestyle, 11thin the 200m Freestyle and 12thin the 100m Breaststroke.
Sam Bradley (25) also made his Masters' debut performance at National Level, competing in six events. His best placings were 8thin the 25–29 years' 400m Freestyle, 14thin the 200m Freestyle and 15thin the 100m Backstroke.
John O'Rourke (49) came 8thin the 45-49 years' 400m IM, 9thin the 400m Freestyle and 13th in both his 200m Freestyle and 200m IM. His times in those 200m events were his best for over six years.
Sonia Bentley and Sharon Thompson both secured top twenty placings in each of their three events in the 50-54 years' age group, steadily increasing their own individual and the Club's Ladies Team Decathlon points. After many years as a "swimming mum", this was Sonia's first year as a Masters' swimmer and she shattered her qualifying entry times. For Sharon it was a welcome return to competition after a year plagued by injuries.
The weekend was a welcomed opportunity for Junior Performance Coach Dave Wright to get in the pool himself. Despite only competing over the distance for the first time this year, Dave (aged 57) swam a well-paced race to claim the 55-59 years' 200m Butterfly National title. One year older, Dave's winning time of 2:47.03 was only 0.33 seconds slower than his swim last year with which he finished third. Missing out on a Bronze over the 100m Butterfly by just 0.27 seconds, Dave registered further top ten placings in his 400 IM (5th, with a time of 6:00.04), 400m Freestyle (6th) and 200m IM (8th).
In the 60-64 years' age group, Graham Powell had claimed silver medals over each of the Backstroke distances in 2017. This year he collected medals of each colour, winning the 100m, finishing 2ndover 50m and 3rdin the 200m. His 50m swim was particularly impressive coming within half an hour of claiming a Bronze medal in the 100m Butterfly. Graham collected a further Bronze in the 100m IM. Although finishing outside of the medals, Graham still beat his own Beds County Masters records from 2016 in his 50m Freestyle (29.80 seconds) and 100m Freestyle (1:06.06).
Competing in the same age group, Malcolm Barton claimed five Top Ten finishes, his best being 5thin both his 200m Breaststroke and 400m IM. Having had a serious shoulder injury early in 2017, it was a welcome return to form for Malcolm with him recording season's best times in four of his six events. Colin Mayes meanwhile secured four Top Ten finishes, his best being 5thin the 100m Breaststroke.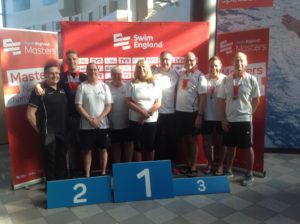 The squad's team spirit and vocal travelling support was well in evidence throughout the weekend. All the more so in the Men's 240-279 years' 4 x 100m Medley Relay. After an enthralling race, where the lead changed with each stroke, the team of Graham Powell, Malcolm Barton, Dave Wright and Colin Mayes finished second to Hemel Hempstead but well clear of the team from Royal Tonbridge Wells. Team Luton's time of 5:10.46 established a new Beds County Masters record for their age group.
With an increasing membership across all ages in the Masters & Seniors' squad, the prospect of further relay successes may yet be on the cards come 2019.
East Region Masters & Seniors – September 2018 – "Youngsters" Spearhead East Region Masters ' Medal Haul
"YOUNGSTERS" SPEARHEAD EAST REGION MASTERS' MEDAL HAUL
Eclipsing their 2017 performance, our Masters' squad brought home 8 Gold, 6 Silver and 4 Bronze individual medals from Newmarket last weekend.
Having only returned to competitive swimming in mid-September, after a four year absence, Tom Lambert won the 18 -24 years' 400m Freestyle in a time of 4:46.85. Tom went on to claim silver over both 200m Breaststroke and the 200m Individual Medley. Two bronze medals from his 50m and 100m Breaststroke brought his personal medal tally to five.
That medal total was emulated by Sam Bradley in the 25 – 29 years age group, with him winning both the 200m Backstroke and the 200m Individual Medley. Like Tom, this has been Sam's first season as a Masters' swimmer, having also competed at the Barnet Copthall Masters meet the weekend before. At Newmarket Sam swam a well-paced 400m Freestyle heat to claim a silver medal, finishing in his heat just 5/100ths of a second ahead of Graham Powell in the adjacent lane! A second silver came in the 50m Backstroke with Sam also finishing third in his 50m Freestyle.
Team Luton was well represented in the 400m Freestyle event with Karen MacKenzie, more renowned for her sprinting, making her debut over that distance. Competing in the 45 – 49 years' age group, Karen's time of 5.37.59 saw her claim the East Region title.
A further gold medal for the squad came from Alastair Gibb's 200m Breaststroke in the 55-59 years' age group.
In the 60-64 years' age group, Graham Powell won three titles over 400m Freestyle, 100m Butterfly and 100m Individual Medley. Malcolm Barton meanwhile won a hattrick of medals over 50m, 100m and 200m Breaststroke. His time of 3:14.12 to claim the silver over 200m augurs well for the English National Masters at the end of the month.
This year Team Luton has a total of eleven swimmers who have both qualified and are free to swim at the Nationals. In addition to five of those who competed at the East Regions, Sharon Thompson, Sonia Bradley, Alex Mason, John O'Rourke, Dave Wright and Colin Mayes will be taking part.
As those National Masters championships approach, Team Luton are up to 12thplace as of 1st October in the GB Men's Masters Team Decathlon competition.  Alex, Graham, Alastair and Tom are currently the top four highest scoring males to date from the club. Close on their heels is Dave Wright. He is due to compete at the South East Region Masters in the lead up to the Nationals and should therefore be vying for one of the top four places in the team competition. Our Ladies team of Karen MacKenzie, Sonia Bradley, Sharon Thompson and Michelle Neal are meanwhile in 76thplace in the Ladies Team event, having already achieved their highest cumulative points total to date.
Open Water -July 2018 – Success Across The Ages
OPEN WATER SUCCESS ACROSS THE AGES
All six of our competitors, ranging over a more than forty year age span, won  East Region or County medals at the 2018 Open Water championships held in Norwich.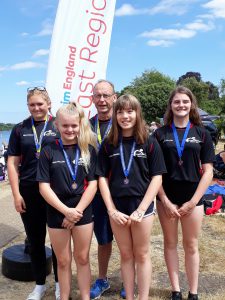 Having only returned to swimming in the past year, Sonia Bentley is proving to be up for any challenge. Successes in the pool over a variety of events have now been matched in open water as Sonia picked up an East Region Bronze and Beds County Gold for her 2km swim in the 50 – 59 years' age group.
Dave Wright also won County Gold for his 3km swim in the Men's 50 -59 years' age group. His time of 46:35.9 easily beat his 2017 swim of 47:18.10  and saw him claim the East Region silver for the third successive year.
Barnet Masters Distance Meet – July 2018 – Another Record For Alex
ANOTHER BEDS COUNTY RECORD FOR ALEX MASON
Alex Mason, our Lead Skills 1 Squad coach, demolished the Beds County Masters (18 – 24 years) record by over 17 seconds over 800m Freestyle at the Barnet Masters Distance Meet. His performance set the tone for the weekend. An impressive number of "debut" swims saw the group of five competitors collecting a total of seven Gold, two Silver and seven Bronze medals.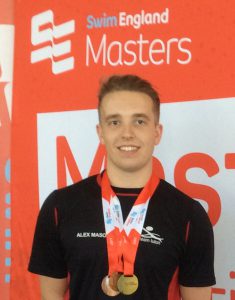 Alex won all four of his events, (the 200m IM, 200m, 400m & 800m Freestyle). His time in the 800m Freestyle of 9:17.64 also took 1minute 40 seconds off the club's 18 years and over short course record for that event. Alex already holds the Seniors' County Record for 18-24 years for the 400m IM.
A club swimmer for many years, Barnet saw Sam Bradley making his debut as a Masters competitor. Sam won both the 25 – 29 years' age group 200m Freestyle and 200m Backstroke. Touching in third place in the 100m Backstroke, Sam is already looking forward to competing at the English National Masters in October.
Both Sonia  Bentley and Sharon Thompson were "debutantes" at the Meet, competing over various strokes for the first time in their 50 – 54 years' age group. Sonia was rewarded with a gold over 200m IM and finished third over 100m Backstroke, 100m Breaststroke and 100m Butterfly. Sharon finished in fourth place in the 100m Breaststroke but collected a bronze medal over 200m Breaststroke.
For John O'Rourke, the Meet was a stunning return to form. At the top end of his 45- 49 years' age group, John collected a silver medal over 200m Freestyle and 400m Individual Medley. John's IM time of 6:40.67 was an all time personal best, beating by over six seconds the time he had recorded back at the 2015 National Masters. An all time personal Masters best time by over a second also came in the 100m Breaststroke for which John collected a bronze medal. John went home very happy, having won medals in all of his events with a further bronze over 200m Freestyle.
GB Masters – June 2018 – 4 Silver, 2 Bronze & 4 County Records
MASTERS SHINE AT 2018 GB CHAMPIONSHIPS
The Masters' spirit of "Fitness, Friendship & fun" was very much in evidence at the GB Long Course championships held down in Plymouth. Four silver medals, two Bronze, four Beds County records and at least two Top 5 finishes for each of our competitors were in some ways just the icing on the cake.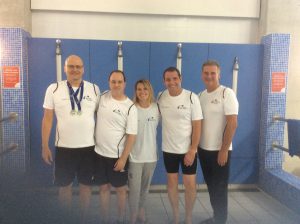 John O'Rourke set the tone for the weekend, both at the hotel the night before swimming and then with his first swim, the 800m Freestyle. Competing in the 45 – 49 years' age group, John finished 5thin a time of 11:48.67. That was some eighteen seconds faster than his qualifying time and five seconds faster than he had swum in the Erith Masters' short course meet just three weeks' earlier. John also finished 5thin his 400m Individual Medley ("IM") in a time of 7:01.51. That was so agonisingly close not just to breaking the seven-minute barrier but also a mere 0.54 seconds outside of his own Beds County record set back in 2016. John, at the top end of his age group, also finished 7thin both his 400m Freestyle and 200m IM.
Karen Mackenzie (45) claimed 4thplace in her 100m Backstroke. Her time of 1:21.62 demolished the County record for her age group by over 20 seconds. Karen proceeded to reduce her own County records on both 50m Backstroke and 200m IM by a second whilst knocking 0.5 seconds off her 100m Freestyle record. Swimming 50m Butterfly long course for the first time, Karen also beat her personal best short course time by 0.5 seconds.
In the 55 – 59 years age group, Alastair Gibb (58) claimed 5thspot in both his 200m IM and 200m Breaststroke. He topped off his weekend with a bronze in the 400m IM, to match his finish in the 2015 GBs.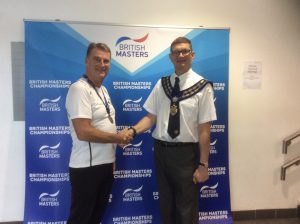 Out of his five swims in the 60 – 64 years' age group, Graham Powell (62) was most pleased with his time in the 50m Butterfly. This was despite being touched out of the medals by 0.36 seconds. Revenge over his rivals came by Graham then snatching the silver medals in his 50m Back stroke and 100m Butterfly by just 0.03 and 0.06 seconds. Graham won two further silvers in his 100m and 200m Backstroke.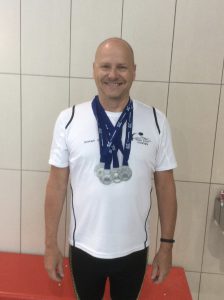 Colin Mayes (63) collected a bronze for his 200m IM whilst finishing 4thand 5thover 100m and 200 Breaststroke. He also managed to fit in an "open water" swim, retrieving his phone at 6am from the harbour where he had dropped it the night before!
In a return to competing nationally after a year coming back from a snow-boarding shoulder injury, Malcolm Barton (63) was less than 0.5 seconds behind Colin in the 100m Breaststroke to finish 5th. A strong final 50m in the 200m Breaststroke saw Malcolm claim 4th place. His time of 3:18.57 was an eight second improvement on his long course time from January and within three seconds of his GB bronze medal winning time in 2015.
Midland & Erith Masters- May 2018 – 11 Medals at Midland Masters
ELEVEN MEDALS WON AT MIDLAND MASTERS
Six gold, three silver and two bronze medals were won at this year's Midland Masters Meet up in Rugby, helping our Men to climb up to 17th place in the 2018 GB Team Decathlon competition.
Alex Mason may have been disappointed with his times in the 18-24 years' age group but 4:24.48 was good enough to claim gold in his 400m Freestyle. This was followed by a silver medal for his 57.35 in the 100m Freestyle.
In the 55-59 years' age group, Alastair Gibb finished second in his 200m Breaststroke and 400m IM and collected bronze over both 200m Backstroke and 400m Freestyle.
However it was Graham Powell who was in particularly impressive form at Rugby. In his first competitive swims of the year, Graham won all five of his events in the 60-64 years' age group. Posting a time of 33.63 in the 50m Backstroke, a win over 200m was swiftly followed by 32:29 to snatch victory in the 50m Butterfly. Two further golds came in the 100m Butterfly and 100m Backstroke.
Graham's times have helped him to take over the fourth place from Malcolm Barton in Team Luton's Decathlon team.
Malcolm had competed at the Erith & District Masters meet the previous weekend. Despite the water being ridiculously warm for achieving fast times, Malcolm still claimed first place in his age group's 400m IM. The slowest seeded heat for that event was an all Team Luton affair which saw Malcolm swimming alongside Alastair Gibb and John O'Rourke. John now occupies third place in the club's Decathlon team having gained more valuable points, whilst finishing second in both his 800m Freestyle and 200m Backstroke.
Our Men are up to 17th place in the GB MastersTeam Decathlon whilst our Ladies (none of whom competed at either Bexley Heath or Rugby) are now in 76th place.
Newmarket Masters – April 2018 – Ladies Shine At Newmarket
LADIES SHINE AT NEWMARKET MASTERS MEET
Our Masters excelled at the 5thNewmarket Masters & Seniors ' Open Meet. Everyone collected at least two medals each as they brought home a total of  9 Gold, 12 Silver and 11 Bronze, whilst claiming a further twelve 4thplaces.
On a day when the men received their awards for being the top placed East Region club in the 2017 GB Masters Team Decathlon competition it was the turn of the ladies to shine, winning more medals than their male colleagues.

Making her debut in Masters' competitions, Michelle Neal won the 35 -39 years' 100m Freestyle in a time of 1.12.44. Narrowly missing a medal over 50m Freestyle, Michelle  finished second in her 50m Butterfly with Gwen Skingley touching in third place. Gwen  won a further bronze medal in her 100m Breaststroke whilst claiming 4thplace in both the 50m and 200m Freestyle.
In the 45 – 49 years age group, Karen MacKenzie also finished 4thin the 50m Freestyle but won her preferred 50m Backstroke in 36.55 seconds. Much to her surprise, competing in less favourite events for the decathlon competition, Karen  also collected a gold medal over 100m Butterfly and silvers from her 50m Butterfly and 50m Breaststroke.  In a return to competition after over nine months away, Lorraine Sadler won bronze medals in the same age group over 100m Freestyle and 100m Individual Medley.
After years of watching her own children compete and only two months of training, Sonia Bentley also had an impressive Masters' debut winning the 50 – 54 years' 100m Individual Medley and silver medals over 50m, 200m and 400m Freestyle. Sharon Thompson, competing again after sustaining an injury in 2017, finished in third place in that 400m Freestyle in a personal best time. Much to her delight Sharon  also collected a gold medal over 50m Breaststroke and a silver over 100m Individual medley.
John O'Rourke competed in six events in the 45 -49 years' age group winning gold in his 400m Freestyle, silver over 200m Freestyle and a bronze over both 100m Backstroke and Freestyle. John  also finished 4thin his 50m Breaststroke and Freestyle.
In the 55 – 59 years' age group, Alastair Gibb won the 100m Breaststroke, a trio of silvers over 100m, 200m and 400m Freestyle whilst finishing 4thin both the 100m Backstroke and 100m Individual Medley. Dave Wright came second in his 50m Butterfly, claiming a trio of silvers over 100m Backstroke, 50m Freestyle and 100m Individual Medley whilst finishing 4thover 50m Breaststroke.
Having missed competition throughout 2017 due to an injury, Malcolm Barton used the competition to test his pacing, swimming Breaststroke in the 200m Freestyle. He still collected a bronze medal to go with the golds he won over both 50m and 100m Breaststroke.
South East Long Course 2018 – Flying start to 201
FLYING START TO 2018 AT SOUTH EAST LONG COURSE MASTERS
Six Gold, three Silver and one Bronze medal plus four new Beds County Master records at the Swim England South East Masters Long Course championships kick started Team Luton's 2018 competitive season.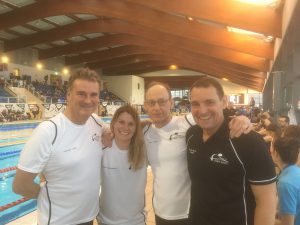 Returning to competition after a 15 months absence due to a snow boarding injury, Malcolm Barton set the marker. He stormed to victory in his first race, the 60 – 64 years old age group. Whilst slightly disappointed by his own pacing and the resulting time, a gold medal in the 200m Breaststroke was testament to the time Malcolm had spent in the gym last year regaining his muscle strength. That victory was followed by a second win in the 50m Breaststroke in 41.43. Malcolm capped his weekend with a silver over 200m Individual Medley ("IM").
For Karen MacKenzie it was a truly golden weekend as she stepped up into a new age group, the 45 – 49 year olds. Taking gold in her 200m IM, Karen smashed her own personal best time by 2.5 seconds, whilst establishing a new County record of 3:00.90. Karen had forgotten that she had even entered the 100m Freestyle until the start of the next session. She further surprised herself by winning that event in 1.11.38, another personal best by over five seconds which also broke the old County record by fourteen seconds. Two further gold medals came in Karen's preferred 50m Freestyle and 50m Backstroke. Her time of 31.58 on Freestyle took over five seconds off the County record for her age group. Despite slipping at the start, Karen's Backstroke time of 38.02 demolished the old County figures by fifteen seconds.
Competing in the 55 – 59 years age group, Dave Wright swam a well paced 200m Freestyle  to claim second place in a time of 2:28.15.  He then finished in fifth place in the 200m IM just behind teammate Alastair Gibb. In a small field of competitors, Alastair came away with a silver medal from his 100m Butterfly despite suffering the consequences of a suicidal pace over the first 50m. Better pacing at the start of his final race, the 400m IM, saw Alastair carry on to touch in third place.