All six of our competitors, ranging over a more than forty year age span, won  East Region or County medals at the 2018 Open Water championships held in Norwich.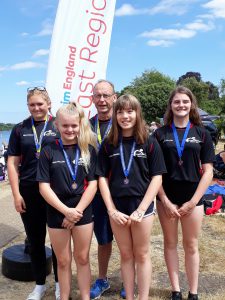 In the Girls' 13- 16 years 3km event, fifteen year old Abbie Barnwell qualified for the National Open Water championships, in a closely fought race to win the East Region Bronze medal. Her time of 41:59.1 seconds was just 5 seconds ahead of the fourth placed swimmer. With the Norwich competition incorporating the Beds County Open Water championships, Abbie also collected a Beds County Silver medal for her swim. Team-mate Anna Fallon won the Beds County Bronze in the same event whilst finishing 12th out of the 30 East Region competitors.
Having only returned to swimming in the past year, Sonia Bentley is proving to be up for any challenge. Successes in the pool over a variety of events have now been matched in open water as Sonia picked up an East Region Bronze and Beds County Gold for her 2km swim in the 50 – 59 years' age group.
Dave Wright also won County Gold for his 3km swim in the Men's 50 -59 years' age group. His time of 46:35.9 easily beat his 2017 swim of 47:18.10  and saw him claim the East Region silver for the third successive year.
In the Girls' Novice 1km races both Lyla Howard and Zara Fallon had emphatic County victories. In the 11 – 12 year age group  Lyla's time of 16:47.58 was over 45 seconds ahead of the second Beds swimmer and saw her finish 10th out of the 34 Regional competitors. Zara Fallon won her County Gold in the 13 – 14 years' event by over 21 seconds, finishing 12th out of 28 competitors in the regional event. Their swims were all the more impressive with both girls being at the younger end of their respective age groups.