Both our Ladies and Men finished in their highest ever positions in the 2018 British Swimming Masters Team Decathlon Competitions. Our Men came 9th out of 501 teams. It was their second successive year in the British Top Ten and sixth in the Top 30. Our Ladies meanwhile finished 92nd out of 435 teams. It was the first time they have ever finished inside the Top 100.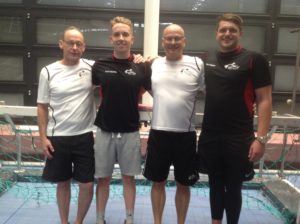 Back in 2016, the Men's team comprised of Graham Powell, Dave Wright, Alastair Gibb and Malcolm Barton. achieved 16,495 points. Younger blood has since started coming through with the Seniors, Alex Mason in 2017 and then Tom Lambert in 2018, pushing Malcolm and then Alastair out of the top four.
Finishing one place higher than in 2017, the Men's team actually scored marginally fewer points; 18,730 points in 2018 compared to 18,861 points.
In the GB 2018 Individual Men's competition, Graham Powell finished in 24th place whilst Alex Mason came 32nd. Tom Lambert was placed 94th with Dave Wright just outside the top 100 in 104th.
Our top four Ladies has also changed over the years. In 2018  "debutantes" Michelle Neal and Sonia Bentley swam their first Masters competitions to join Karen MacKenzie and Sharon Thompson as our top four highest scoring females.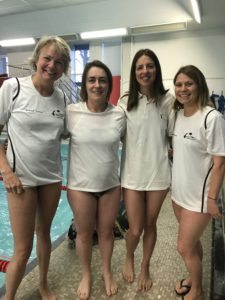 Our ladies have traditionally not entered their potential maximum number of qualifying races. However, as a team they have collectively been steadily climbing the national rankings over the years. Back in 2016 the Ladies finished 142nd with 5,786 points from 20 races; in 2017 they were placed 118th, having amassed 6,379 points from 21 races. With 26 qualifying races in 2018 the Ladies achieved 7,792 points.
The decathlon competition is based on FINA points awarded for age adjusted times recorded in up to ten individual events, across six different categories, from the various Masters & Seniors competitions held throughout the year. This is to encourage swimmers (aged from 18 years and upwards) to compete in a variety of events and not just their preferred ones. The highest scoring four swimmers from each club are combined together for the team competition.
However, the decathlon with its individual age adjusted points system is just one way of all swimmers to see how they may have fared from year to year, even if their personal times might get slower as the years advance!
The last three year's individual results are tabled below, extracted from the full 2018 Decathlon results.
Our Men:
Name
Age
Decathlon Points (No. of races)
GB Decathlon Ranking
2018
2017
2016
2018
2017
2016
Graham Powell
62
5,271 (10)
5,349 (10)
5,279  (10)
24
33
29
Alex Mason
22
5,103 (10)
5,041 (10)
–
32
49
–
Tom Lambert
23
4,234 (10)
–
–
94
–
–
Dave Wright
57
4,122 (10)
4,267 (10)
4,215  (10)
104
104
98
Alastair Gibb
58
3,921 (10)
4,204 (10)
4,117  (10)
127
110
106
Colin Mayes
63
2,860 (7)
3,089  (7)
2,882  (7)
311
264
318
John O'Rourke
49
2,662 (10)
2,498 (10)
2,691  (10)
373
437
375
Malcolm Barton
63
1,903 (6)
–
2,884  (10)
765
–
317
Ian Norman
49
472 (3)
–
–
1,985
–
–
Michael Poynton
28
–
1,869 (4)
–
–
780
–
Jonathan Pennell
26
–
1,405 (4)
2,250 (6)
–
1,128
589
Mark Wareham
47
–
–
2,512 (7)
–
–
453
Darren Hale
47
–
–
1,328 (4)
–
–
1,321
Our Ladies:
Name
Age
Decathlon Points (races)
GB Decathlon Ranking
2018
2017
2016
2018
2017
2016
Karen MacKenzie
45
3,567 (9)
2,736 (7)
2,154  (6)
133
272
458
Sonia Bentley
50
2,002 (8)
552
Sharon Thompson
51
1,149 (6)
704  (3)
   863  (4)
1,064
1,409
1,347
Michelle Neal
38
1,074 (3)
–
–
1,122
–
–
Lorraine Sadler
47
909 (4)
  884  (4)
1,477  (6)
1,254
1,265
864
Amy Pelling
20
–
1,541 (5)
–
–
751
–
Glenda Mayes
62
–
1,218 (5)
1,151  (4)
–
983
1,106
Gwen Skingley
36
662
(4)
780  (4)
   165  (1)
1,434
1,350
1,978
Nicola Pasquire
20
–
602  (1)
–
–
1,475
–
Eloise Turner
46
–
–
1,004  (4)
–
–
1,223