Welsh Short Course – November 2019
THREE WELSH MEDALS FOR KELLY COOKE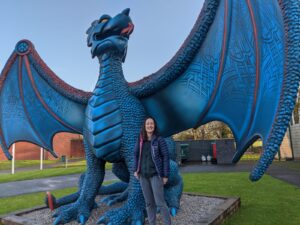 Kelly Cooke was in fine sprint form once again at the Swim Wales Open Masters Short Course Championships in Newport. She won her 40 – 44 years' 50m Backstroke in a new Beds County record of 36.70 seconds.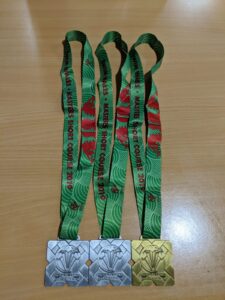 Kelly also collected silver medals for her 35.97 second 50m Butterfly and 31.67 second 50mFreestyle
National Short Course – October 2019 – Medals and County Records
INDIVIDUAL AND RELAY MEDALS AT 2019 ENGLISH NATIONAL MASTERS
Team Luton's swimmers gave an impressive display at the 2019 English National Masters Championships bringing home two gold, three silver and three bronze individual medals in addition to one silver relay medal.
With a further 25 top ten finishes – that included four 4th and four 5th places – the thirteen swimmers who competed set numerous personal best times whilst establishing four new Beds County Masters records.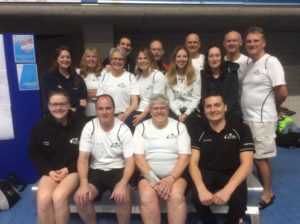 Laura Smith was one of four making their National Masters' debut. She was very unlucky to miss out on a medal, finishing 4th = in the 25 – 29 years' 100m Breaststroke in a time of 1:23.04, a personal Masters best by  over a second and an agonising 0.02 outside of the bronze medal position. Laura's time was also just 0.2 seconds slower than her best ever short course time recorded over ten years ago! Laura swam personal best Masters times in four other races and ended the meet finishing 5th in her 50m Breaststroke.
Jodie Armstrong's debut saw her come 5th in the 35 – 39 years' 50m Backstroke, in a time of 35.29 seconds, one of two personal bests over the weekend.
Kelly Cooke, another Masters' debutante, clearly had the bit between her teeth, smashing her personal best time in the 40 – 44 years' 50m Freestyle by 1.14 seconds. Touching in 31 seconds, Kelly's time was a new Beds County Masters record by 0.25 seconds. That record had been held by Karen Mackenzie who had the consolation of setting a new County record of 6:21.11 in her 45 – 49 years' 400m IM, finishing in 7th place.
The 50m Freestyle event, swum in descending age group order, saw all our Ladies in fine sprinting form. Sharon Thompson set the pace in the 50 -54 years' age group beating her best time for the year by 0.6 seconds, followed by Karen MacKenzie in a season's best. Michelle Neal, aged 39, continued her habit of swimming faster each and every time she races over 50m; her time of 30.61 seconds was a further improvement by 0.63 seconds. Jodie then swam 31.66 to better her time by 0.15 seconds for Laura to follow with a 30.71  that beat her best by 0.38 seconds.
Alex Mason retained his 18-24 years' 200 Individual Medley ("IM") title and once again collected a silver medal for his 400m Freestyle. This year he also won the 200m Breaststroke, having only finished third in 2018. Alex picked up a further gold and bronze medal as part of two GB Police team relays.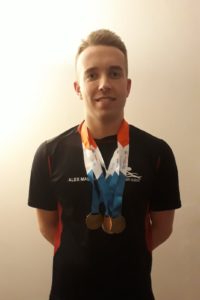 Graham Powell missed the first half of the year due to ill-health. Undeterred, Graham still claimed a silver in the 60 -64 years' 100m Backstroke and bronze in his 50m Backstroke, 100m Butterfly and 100m Freestyle whilst finishing 4th in his 50m Butterfly and 200m IM. Just for good measure Graham rounded off his programme of 7 individual and three relay races with a 10th place in the 50m Breaststroke.
For the second successive year Malcolm Barton achieved five top ten finishes in the 60 – 64 years' age group, coming 11th in his other race. However, this time around and despite being at the oldest end of his age group Malcolm also won a silver medal for his 400m IM, emulating his achievement at the GB Masters back in June.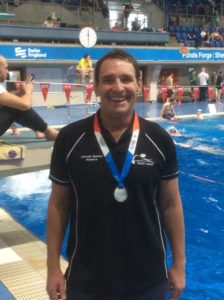 Colin Mayes also achieved 5 top ten finishes in the 60 – 64 years' age group, his best placing being 5th in the 200m Breaststroke.
In the 55 – 59 years' age group Dave Wright came 6th in the 400m Freestyle, 7th in the 400m IM and 8th in his 100m Butterfly. Despite his 2:48.73 in his 200m Butterfly being only 1.7seconds slower than his winning time the year before, Dave – now aged 58 – had to settle for 4th place behind three "young" 55 year olds.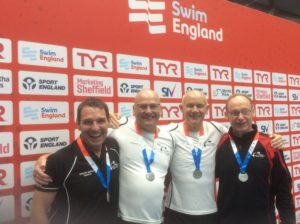 The quartet of Dave Wright, Graham Powell, Malcolm Barton and Colin Mayes nevertheless set two new Beds County Masters records in the 240 – 279 years age group finishing fifth in both their 4 x 100m and 4 x 200m Freestyle relays. Their time of 5:14.45 in their 4 x 100m Medley relay to claim a silver medal was just 0.25 seconds ahead of the fast-finishing team from St Albans Masters. Entering the relays had principally been the idea of Masters Secretary, Alastair Gibb. Forced to miss out competing himself due to a heart condition diagnosed just two weeks before, the close finish did little to keep anyone's heart rates in check.  For Malcom, it transpired that his own takeover had literally been a "trunk- splitting" event!
John O'Rourke's swam season best times in five of his six events. His  best placings were 6th in the 50 -54 years' 400m IM and 7th in his 400m Freestyle.
Sam Bradley also competed in six events in the 25-29 years' age group, recording personal best times in both his 50m and 100m Backstroke and season best times in his other four races.
All in all it was once again a sterling team performance.  Great camaraderie was in evidence both poolside and at the evening team dinners –  despite arriving the first night as if everyone had all stepped fully clothed straight out of the Ponds Forge pool, such was the extent of the downpour on the "short" walk from the hotel.
With points awarded for each top three placing and all finishes, Team Luton were the 43rd highest points scoring club out of the 232 clubs that were represented at the English Nationals, many of which had far more competitors.
East Region Masters & Seniors – Sept 2019 – Nine Individual & Two Team Champions in 25 Medal Haul
25 MEDALS WON AT 2019 EAST REGION MASTERS
As our Masters squad grows in numbers it was perhaps not surprising that this year we had our greatest ever medal haul at the East Region Masters championships. Nine individual, two relay Golds, 7 Silver and 7 Bronze medals were claimed. With the GB  National Masters' only 4 weeks away, everyone was in fine spirits.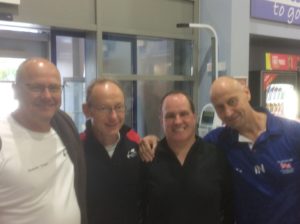 Sharon Thompson set us off, winning her first ever Regional title, the 50 -54 years' 800m Freestyle, in only her first competitive race at the distance.
Kelly Cooke also claimed her first title, winning the 40 – 44 years' 100m Freestyle in 1:10.02 to qualify for a further event at the Nationals, having come 2nd over 50m in 32.14 seconds.
Michelle Neal came 2nd in the same F/s sprint in the 35 – 39 years' with Jodie Armstrong edged out into 4th place after being distracted by a false start. Jodie exacted her revenge to claim silver in the 100m, with Michelle bagging the bronze.
Alice Pinney also collected a silver for her 18 -24 years' 100m Freestyle to go with a bronze from her 50m.
Karen MacKenzie joined in with Jodie, Michelle and Kelly to claim the Ladies  160 + years' 4 x 50m Freestyle relay title, following on from their County record breaking swim at Barnet a fortnight previously.
Our Men's team of Graham Powell, Dave Wright, John O'Rourke and Ian Norman emulated the Ladies to win their 200 years+ 4 x 50m F/s relay.
On this occasion it was Sam Bradley who claimed a new Beds Masters County record, winning the 25 – 29 years' 200m Backstroke. In a packed programme of seven individual events, Sam also won his 200m IM whilst collecting three silvers over 50m Backstroke, 100m Butterfly and 400 Freestyle.
John O'Rourke swam in five individual races in the 50 -54 years' age group, recording his best performances of the year in each one. He was further rewarded with a bronze for his 200m Backstroke,  400m  & 800m F/s.
In the hunt for valuable team decathlon points, Dave Wright picked up a bronze for his 55- 59 years' 50m Breaststroke whilst winning his preferred events, the 100m Butterfly, 200m Backstroke and 200m Freestyle.
Graham Powell won golds in both his 60 -64 years' 400m Freestyle and 50m Backstroke.
Barnet Masters Sprints Meet – Sept 2019 -Ladies Shine & a new Country Relay Record
LADIES SHINE AT 2019 BARNET MASTERS SPRINT MEET
With three of the six making their Masters' competitive debuts this year, it was the turn of the Ladies to shine at the Barnet Masters Sprints Meet. They collected 17 medals, emulating their male colleagues, but had the surprise bonus of breaking a Beds County Masters relay record whilst adding to what is already the Club's highest ever Ladies Team decathlon score.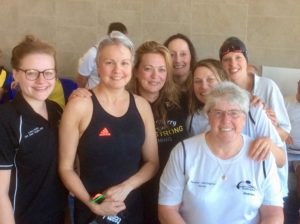 Laura Smith, aged 25, propelled herself to become the Club's second highest scoring female in the Ladies decathlon in only her second Masters' meet. She claimed two silver medals (100m Individual Medley "IM" and 50m Butterfly) and three Bronze medals (50m & 100m Freestyle and 50m Breaststroke) in the 25 – 29 years' age group.
Jodie Armstrong won two individual golds on her debut swims in the 35 – 39 years' 50m Butterfly and 50m Backstroke, pushing Michelle Neal into the silver position in the Butterfly. Michelle exacted her revenge on the 50m Freestyle, coming 4th to Jodie's 6th place. Thirty-seven year old Michelle also just missed out on a further medal, touching 4th  in the 100m Freestyle.
Kelly Cooke was the Club's third Masters' debutante, finishing 4thin her 40 – 44 years' 50m Freestyle and 5thin the 4 x 25m IM. She still came away with two Gold medals courtesy of being a member of both the 160+ years' Ladies 4 x 50m Freestyle and Medley relay teams. Winning both of those relays, the quartet of Jodie, Michelle, Kelly and Karen Mackenzie were never really challenged by the second placed team. They still broke the Beds County freestyle relay record for their age group that had been held by South Beds since 2015 much to everyone's delight – including the children who had travelled to support their mothers. In a real team display each of the Ladies recorded 31 second splits to finish in a time of 2:06.20.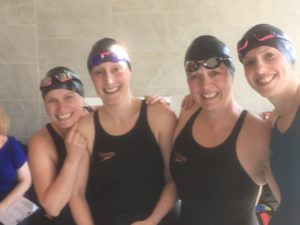 Karen Mackenzie picked up an individual gold (50m Backstroke) and two silvers (100m IM and 100m Butterfly) in her 45 – 49 years' age group.
Like Karen, Sharon Thompson was on the hunt for adding to her personal individual decathlon score. Competing over some of her weaker strokes, Sharon still picked up two silvers (50m & 100m Breaststroke) and two bronze medals (50m Butterfly and 50m Freestyle) in her 50 -54 years' age group.
Barnet provided Graham Powell with only his second competitive Masters' swims of the year after an enforced absence for health reasons.  He was back to his old winning ways with four golds (50m Freestyle, 50m Backstroke, 100m Butterfly and 100m IM) as Team Luton's men dominated his 60 – 64 years' age group. Breaststroke specialist Malcolm Barton took the opportunity to test himself over all four strokes in preparation for his 400m IM at the National Masters come October. Winning both the 100m Backstroke and 100m Breaststroke, Malcolm was second in the 100m Freestyle and third in the 100m Butterfly. Having been edged out of first place by Malcolm in the Breaststroke, Colin Mayes picked up a gold for the 100m Freestyle and a Bronze in the 100m IM.
In the 55 – 59 years age group, Alastair Gibb was placed first in his 100m Freestyle and second in both the 100m Backstroke and 100m Breaststroke.
John O'Rourke competed in six events in a highly contested 50 – 54 years age group. His best placings came with a gold in the 100m Backstroke and a bronze in the 100m Butterfly. Ian Norman had three top ten finishes in the same age group, his best being fifth over 25m Freestyle.
Twenty-two years old Alex Mason won the 18 – 24 years' 100m IM and came third in the 100m Butterfly.
With a total of 34 medals and 1 new County record, Masters coach Pauline Harrington was suitably proud, not least as she had spent the best part of her birthday and the 60th anniversary of joining a swimming club, with the squad of 13.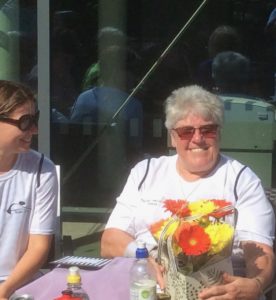 A special mention should also go to the support from all the family members and partners of all ages who on this occasion almost outnumbered the Club's competitors.
Swim England Open Water – Sept 2019 – Bronze Medal For Dave Wright
NATIONAL SUCCESS AWAY FROM THE POOL
Congratulations to Development Squad Coach, Dave Wright, on winning a Bronze Medal at the English National Masters Open Water Championships.
Dave is no stranger to competing over the longer or more arduous distance events in the pool, be it a 200m Butterfly, a 400m IM, or the occasional 1500m Freestyle. Having earned a Bronze in the East Region's 5k earlier in the summer, Dave's success on this occasion came in a shorter distance, the 3k.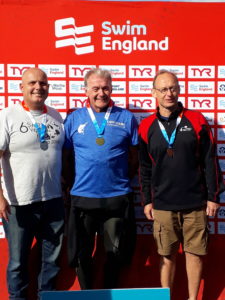 Alice Pinney meanwhile finished in 4th place in the Ladies 18-24 years' 5k race in what has been a remarkable year for Alice. Prior to joining Team Luton, Alice had previously only swum competitively with her school. Since competing for the first time in Seniors' competitions back in February, Alice has qualified to swim in 7 events at the National Masters at the end of October. She will be joining Dave and others from our Masters squad for what is traditionally their main "end of season" competition.
Barnet Masters Distance Meet – July 2019  – Two More County Records For Sam Bradley
TWO MORE COUNTY RECORDS FOR SAM BRADLEY
Our squad of six Masters & Seniors who competed at the Barnet Distance Meet all contributed to the medal haul of 7 Gold, 2 Silver and 11 Bronze. 
Sam Bradley broke the Beds County 25 – 29 years' 800m F/s record by ten seconds. Finishing in a time of 11:16.90 to claim third place, Sam also set new figures to finish second in his 200m Backstroke. Four further bronze medals cam from his swims in the 100m Backstroke, Breaststroke and Butterfly together with his 400m IM.
Competing in her very first Masters competition, Laura Smith won both the 25 – 29 years' 200m Breaststroke and 200m IM inside the qualifying times for the National Masters in October.
Alice Pinney collected three bronze medals in the 18-24 years' age group. Competing for the first time over 200m Freestyle and 200m IM, Alice's times were also all within the National qualifying standard.
In the same age group Alex Mason won both his 100m Backstroke in a time of 1:03.85 and the 200m Breaststroke in 2:37.45. Boosting his 2019 decathlon score by 897 points to a total of 3,839, these swim took Alex up in to the Top 100 in the GB Individual Decathlon competition after only 9 out of a possible maximum 10 qualifying events.
In the 50- 54 years' age group John O'Rourke swam in 5 events, winning both his 400m IM and 100m Backstroke. John collected a silver for his 100m Breaststroke and bronze for both his 400m F/s and 100m Butterfly.
Ian Norman finished 4th behind John in the 400m F/s but won the 200m Freestyle and picked up a bronze for his 100m Freestyle.
GB Masters – May 2019 – Masters Go The Distance To Medal
MASTERS GO THE DISTANCE TO MEDAL AT 2019 GB MASTERS
A reduced squad compared with prior years still brought home the goods from the GB Masters Long Course championships held this year in Swansea. They bagged five individual medals and two Beds County records with the squad's versatility and stamina very much in evidence. Three of the medals were won in the 400m Individual Medley.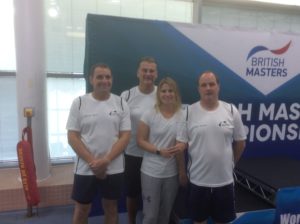 After fourteen years of competing in Masters' competitions, John O'Rourke got the weekend off to a flying start, winning his first ever National swimming medal in the 50-54 years' 800m Freestyle. His time of 11:51.48 earned him a well-deserved Bronze medal. Having waited fifty years to medal, John only had to wait a few hours for the next session to collect a further Bronze medal with his time of 7:20.78 in the 400m IM.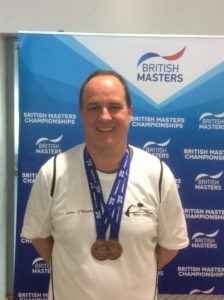 Malcolm Barton, who was competing for the last time in the 60 -64 years' age group, was drawn in the same heat as John for the 400m IM. As might be expected, they were changing positions with each stroke during the race. Malcolm led on the Butterfly leg for John to overtake just after 150m on the Backstroke. Having been passed on the Breaststroke, John finally pulled away from Malcolm with just over 50 metres to go on the Freestyle. The friendly rivalry and pace setting clearly paid dividends. Malcolm held on over the final 50 metres to claim second place in a time of 7:31.92 – a mere 0.65 seconds ahead of the fast-finishing third placed swimmer in his age group. The time was only 1.76 seconds slower than when Malcolm won Bronze in the same event back in 2016.
The effort of winning that silver IM medal perhaps took its toll on Malcolm who was marginally disappointed with his time of 3: 20.73 in his 200m Breaststroke in the next session. However, it was more than sufficient to claim the Bronze medal, emulating the position he achieved four years ago in the same age group.
The two new Beds County Masters records came from Karen MacKenzie, competing in the 45 – 49 years' age group. Swimming in the event for only the second time, Karen smashed her own record in the 400m Individual medley to claim the Bronze medal. Her time of 6:27.81 was some 7 seconds faster than she swam at Crawley back in January, reflecting a vast improvement in her weakest discipline, the Breaststroke. With two World record swimmers in her age group Karen was always going to have tough competition in her Backstroke events. Undeterred, Karen finished in a time of 36.98 seconds to snatch 4th place in the 50m, reducing her own County record by 0.11 seconds. Karen was similarly placed in the 100m Backstroke, just 0.35 seconds outside her County record whilst she finished 5th in her 50m Freestyle and 9th over 50m Butterfly.
In the 55-59 years' age group, Alastair Gibb was unable to emulate his club mates, finishing in 4th place in his 400m IM, whilst being placed 7th and 6th respectively in his 50m and 200m Backstroke events.
Newmarket Masters & Seniors – April 2019 – Lucky 13 Strike 35 Medal Haul
"LUCKY 13" IN 35 MEDAL STRIKE
Our Masters & Seniors enjoyed their largest ever medal haul at the 5th Newmarket Masters Open Meet, bringing home 12 Gold, 15 Silver and 8 Bronze medals.
The thirteen strong squad might have won even more medals, but some chose to use the competition to swim certain races for the very first time, in preference to their better strokes or distances, whilst not everyone had entered events in both sessions.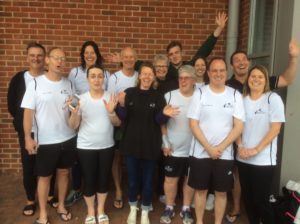 For tri-athlete Clare "Chippy" Murphy-Snape, it was her first ever Masters' competition. Winning gold in all three of her 40 – 44 years age group events 50m Backstroke, 50m Breaststroke and the 100m IM Chippy could return home with head held high. Her young son had warned Chippy that he would be disappointed if she did not win!
In the 45 – 49 years category Karen Mackenzie collected bronze in  her 400m Freestyle in a five second personal best time, with a further bronze over 50m Breaststroke. Team-mate Lorraine Sadler finished 4th in the latter event and also the 100m IM but was rewarded with a gold from her 50m Backstroke and a silver from her 50m Freestyle.
Both Michelle Neal and Sharon Thompson opted to try different events for the first time. Finishing 5th to younger swimmers in her 35 – 39 years' age category Michelle still swam times well within the National Qualifying times over both 100m IM and 50m Breaststroke. Sharon meanwhile smashed her entry times in the 50 – 54 years' 100m Butterfly and 50m Backstroke, touching in 4th and 5th place respectively.
After years of being a "spectating swim mum", Sonia Bentley had dipped her toes into the water for the first time as a Masters' competitor at the 2018 Newmarket meet. This year it was truly a family affair, with her son Nathan now competing for the first time as a Senior in the 18 – 24 years' age group. Sonia won both her 50 – 54 years' 50m Breaststroke and 100m IM whilst collecting silver from her 100m Freestyle and bronze from her 100m Backstroke. In his first event the 50m Backstroke, Nathan made full use of the permitted 15m under water leg kick to finish in 2nd place in an agonisingly close time of 30.02 seconds. Two further silvers came with his 50m Butterfly and 100m IM with a bronze in the 50m Freestyle in a time of 26.37 seconds.
More medals came in the Men's 50 – 54 years' events. John O'Rourke finished 2nd in his 100m Butterfly and 200m Freestyle with third place in both his 100m IM and a well-paced 400m Freestyle. Ian Norman finished out of the medals in four of his events but still brought home a bronze from his 50m Butterfly.
In the 55 – 59 years' age group, Dave Wright won the 100m IM, just 0.24 seconds ahead of Alastair Gibb. Dave also won the 100m Butterfly and a bronze in his 50m Backstroke. Alastair meanwhile took home two further silver medals from the 200m & 400m Freestyle events.
It was also a one, two for Team Luton in the 60 – 64 years' 50m and 100m Breaststroke with Colin Mayes just edging out Malcolm Barton. Malcolm showed impressive early season form for his preferred 200m distance, clocking a time of 3:16.05 to still finish third against fellow competitors who swam crawl in the Freestyle event.  Showing further promise for his forthcoming 400m IM at the GB Masters in June, Malcolm beat the National Qualifying time  to win the 100m Butterfly, whilst collecting a third silver in his 100m IM. Colin completed the club's medal tally with victory in his 400m Freestyle and a silver over 50m.
Masters' Chief Coach, Pauline Harrington was delighted with everyone's efforts at Newmarket, as news filtered through on returning home that Alex Mason had meanwhile been winning his 200m Freestyle, 400m Freestyle, 200m IM and 100m Breaststroke with a silver over 100m Butterfly at the GB Police championships.
All in all a very successful day's results – with the same evening the Club's youngsters also finishing 2nd in their first round heat of the 2019 M11 Junior League.
Bracknell & Essex Masters – March 2019 – Masters & Seniors- Never Too Old To Improve!
MASTERS & SENIORS – NEVER TOO OLD TO IMPROVE!
Whether they be in Basildon or Bracknell, our Masters & Seniors who competed last weekend were all in fine form, collecting medals, personal best times -be they in their 20's, 40's or even 50's – and points for the 2019 Team Decathlon competitions. 
Opting to swim at the Essex Masters in Basildon, Alex Mason swam a lifetime personal best by almost a full second in the "Seniors" i.e. 18-24 years' 50m Butterfly. Alex's time of 28.03 seconds earned him a bronze medal. A silver medal on the 50m Breaststroke (32.18 seconds) and a bronze medal in his 200m Freestyle (2:00.36) were also gained with the fastest times Alex has swum in Masters' competitions. To round off a highly successful day, Alex came from behind at half way to claim gold in the 100m Butterfly.
Messages of support and congratulations were passing to and from the Masters meet in Bracknell where Karen MacKenzie, Sharon Thompson and John O'Rourke were competing on the same day.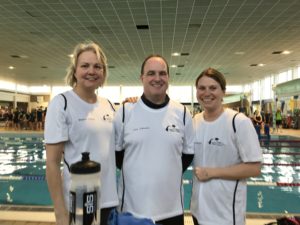 Coach Pauline's training schedules over the close season had clearly paid dividends, with Karen Mackenzie also claiming two personal best times. A time of 36 seconds in her 45 – 49 years' 50m Backstroke was a pb by over half second and saw Karen collect a silver medal. A further silver came in Karen's 100m IM with a bronze medal being the reward for her first ever 200m Backstroke race in a time of 2:57.77.
After an injury prone 2018, it was great to see Sharon Thompson swim a personal best time by over 4 seconds in her 50-54 years' 100IM. Having achieved 1,149 decathlon points in 2018 from six qualifying events, Sharon has already amassed 1,031 points from five events this year.
With the points gained by newcomer Alice Pinney, who made her Seniors' debut at Sudbury in February but had to withdraw from Bracknell due to illness, our Ladies are currently outperforming their male counterparts in the GB Team Decathlon competition.
John O'Rourke swam in three races at Bracknell, bringing home a silver medal for his 200m Backstroke, whilst adding 733 points to the Club's Men's Team Decathlon score.
South East Long Course 2019 – Nine Medals & Two County Records To Start 2019
NINE MEDALS AND TWO COUNTY RECORDS TO START 2019
Five of our Masters & Senior' squad kick started their 2019 competitive campaign at the South East Region's Long Course Championships at Crawley. They came home with an impressive tally of four Gold, four Silver and one Bronze medal, two new Beds County Masters' records and numerous long course personal best times.
Choosing a long course (50m) event for your first 400m Individual Medley race might seem to be a daunting prospect for any swimmer. Karen MacKenzie, Tom Lambert and Sam Bradley duly rose to the challenge. They were rewarded with a Gold, Silver and Bronze medal in their respective age groups. The icing on the cake was a new Beds County Masters record for Karen with her time of 6:34.96.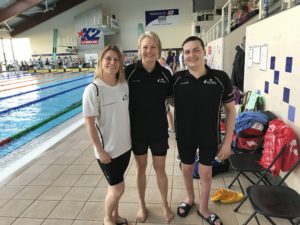 Competing in the 44 – 49 years' age group, Karen had set herself an extensive programme of six events over the two day meet. She proceeded to claim two further golds for her 200m IM and 50m Freestyle. Collecting a silver over 100m Backstroke, Karen was only 0.22 seconds away from claiming a Bronze in her 100m Freestyle.
Sam Bradley did however succeed in collecting a medal of each colour, winning his 100m Backstroke and finishing second over 200m Backstroke. His time of 3:05.44 over the longer distance set a new Beds County record in his 25 – 29 years' age group.
Feeling the effects of missing training from his winter holiday, Tom Lambert still picked up a second silver medal from his 18 – 24 years' 100m Breaststroke.
Crawley was the first long course Masters' competition for both Sam and Tom. For Michelle Neal it was just her second competition, having only made her debut at Newmarket last April. Accustomed to swimming in a 25m pool, Michelle finished a creditable 4th in her 35 – 39 years' 100m freestyle and 8th over 50m Butterfly.
Racing over 200m Freestyle in a 50m pool for the first time Sharon Thompson came 5th in her 50 – 54 years' age group, finishing 6th in the 400m and 7th in the 50m Freestyle.