Barnet Masters Sprints Plus  – September
The quartet of Michelle Neal, Karen MacKenzie, John O'Rourke and Alastair Gibb had a successful day at Barnet's Masters Sprint Plus meet collecting nine medals and breaking four Club records in the process.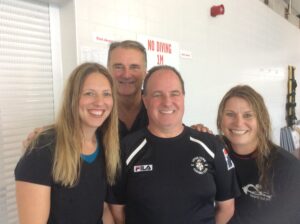 Michelle's personal family travelling band of cheerleaders witnessed her storm to a silver medal for her 31.24 50m Freestyle. Finishing in 4th and 5th places in her 50m Butterfly and Breaststroke, both races were personal Masters' lifetime best times for Michelle, with the latter also being a new 40–44 years' age group Club record.
Fifty year old Karen needed to swim in four "missing" qualifying races to complete her quota of ten qualifying events for the 2023 Decathlon Competition. She actually swam in five events. Karen was duly rewarded with two silver (50m Butterfly and 200m IM) and two bronze medals (100m IM and 50m Breaststroke). Her fly and shorter IM times were new 50-54 years' Club records. At the end of a tiring day, Karen topped it off with a gold medal and new Club record for her age group's 100m Freestyle. The net result added a further 1,379 decathlon points taking her 2023 total to 3,650 points.
John O'Rourke was the Club's other gold medal winner; his victory coming in the 50-54 years' 100m Backstroke. A 4th place in his 200m IM was over a six second improvement on his time from Newmarket back in April. John also added 215 points to his decathlon total, bringing him up to the third highest scoring Team Luton Master, so far, in this year's Men's Decathlon.
Alastair Gibb completed the medal tally with bronze in his 400m and silver for his 100m Freestyle in the 60-64 years' age group. His best 100m time since 2020/2021 gained just sufficient points to increase his 2023 decathlon total to emulate his total score for that year.
GB Masters – June
Our seven competitors returned from the 2023 British Masters Championships in Sheffield with a total of 6 Gold, 5 Silver plus 1 Individual and 1 Relay Bronze. In the process they broke or established no fewer than 6 East Region, 10 Beds County and 19 Club records in their respective age groups.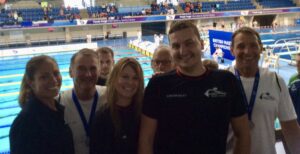 Matt Wright stormed to victory in both his 25–29 years' 200m Freestyle and Butterfly, just 0.60 seconds outside the British Long Course record for that age group in the latter event. Leading from the start, Matt's finishing times of 1:56.27 and 2:09.98 followed on from his 100m Freestyle split and both his 50m & 100m fly splits also being East Regional Masters records.
Matt's father, Dave, retained his British 60-64 years' 200m Butterfly title in a perfectly paced race with a new East Region record of 2:56.98. His time was half a second quicker than in 2022 whereas Dave's 5th and 7thplaces over his 200m and 400m Freestyle had both been just fractionally slower.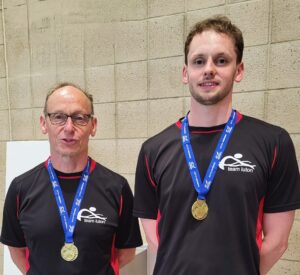 It must surely have been a unique achievement? A father and son both being British Masters championships in the same event.
Jo Mitchinson progressed through the meet to secure an individual medal of each colour from her 100m Backstroke, 400m Freestyle and 200m Backstroke races. Breaking her own 40-45 years' East Regional records set earlier in the year at the Welsh Masters in the first two events, Jo's 400m Freestyle time of 5:07.40 was a further improvement of almost five seconds.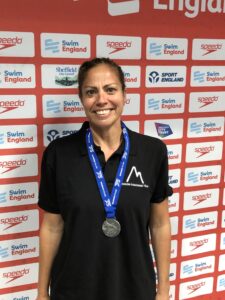 Claiming 4th place in the 30-34 years' 200m Backstroke in a season's best time of over ten seconds, Sam Bradley was recognised as the champion male para-swimmer for his 50m and 100m Backstroke races. Sam also collected the para silver medal for his 1:49.44 100m Breaststroke which he effectively swum "arms only" and set five new Club Masters' records over the long weekend.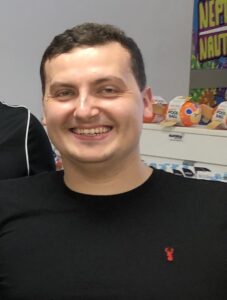 Malcolm Barton started and concluded the Club's medal tally with his individual silver medals from the 65-69 years' 400m Individual Medley and 200m Breaststroke. Having finished in 5th and 4th place in his 50m and 100m Breaststroke events, Malcolm was back in 4th at the final turn in the 200m. A final length "spurt", away on the opposite side of the pool from his fellow aged competitors, Malcolm touched home to claim the silver medal by half a second.
Alastair Gibb's best individual result came with his 5th place in the 60-64 years' 400m Individual Medley. In his first long course 400m Medley race for four years, Alastair broke Malcolm's Beds County record for that age group.
Competing in an age group boasting a Masters' World Record holder, Karen MacKenzie nevertheless claimed 4th place in both her 100m and 200m Backstroke. Breaking her own Beds County' 50-54 years' age group record, her 200m was also over five seconds faster than the county record she had set in 2022 in the 45– 49 years' age group. Both Karen's 50m and 100m Backstroke times were also new Club records for the 50-54 years' age group.
The Men's 160–199 year combined age group's 4 x 100m Medley relay tested nerves, poolside and in the spectator gallery. Matt had got the team off to a great start with an East Region's 25–29 years' 100m Backstroke record of 1:00.45, a lead of over 6 seconds. The Club were edged back into 3rd place after Alastair's breaststroke leg. Dave Wright then managed to pull them back into second place with a lead of 7 seconds over Team Anglia. That proved to be just enough for Sam Bradley to hold off their chase down the final 50m. Claiming their silver medal by just 0.61 seconds, the quartet, with a combined age of 180 years, established a Beds County record in the process.
With so many fine performances, Team Luton's relatively small squad finished a highly creditable 27th out of the 241 clubs who were represented at the GB Masters championships.
Newmarket Masters & Seniors – April
Ability over all four strokes was shown at the 9th Newmarket Masters & Seniors meet, with all six of our squad who competed each also winning medals in their respective age groups over the 4 x 50m Individual Medley. Four new Club Masters' records were set as the squad collected a total of 7 gold, 7 silver and 5 bronze medals.
Karen MacKenzie finished second in her 400m Freestyle and then won the 100m Butterfly, smashing the Club's 50-54 years' Masters records in both events in the process. Going on to win the 200m IM in the same session, Pauline Harrington's Club Masters' record from 1997 escaped Karen. Perhaps next time?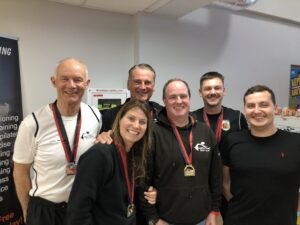 Making his debut at a Masters/ Seniors competition, after a six year hiatus from competitive swimming, Tom Burns started with 8th place in his 18-24 years' 50m Freestyle. Tom then claimed a silver medal for his 100m Breaststroke and proceed to go one better for his 200m IM. All the more impressive, as Tom's swims came in the last three events of the morning session!
Sam Bradley established new  Club Masters' record times for the 30-34 years' 100m Butterfly (2nd) and 200m IM (3rd). A further silver came from Sam's 50m Backstroke, after finishing 6th in his 50m Freestyle.
In the 50-54 years' age group, John O'Rourke claimed the gold medals for both his 400m Freestyle and 200m IM, with 4th place in his 50m Backstroke and 7th over 50m Freestyle.
Three bronze (50m Back, 50m Breast, 200m IM) and one silver medal (100m Freestyle) were picked up by Alastair Gibb in the 60-64 years' age group. Finishing 7th in his 200m Freestyle, Alastair was nevertheless pleased with all of his swims having been fitted with a pacemaker last year.
Colin Mayes topped the squad's medal haul with 3 gold (400m Freestyle, 100m & 200m IMs) and a silver for his 50m Freestyle in the 65-69 years' age group.
 Welsh Open Long Course & Bracknell Short Course – March
The first weekend of March saw both Karen MacKenzie & Jo Mitchinson once again in record breaking form, albeit in different locations.
In Swansea, Jo beat her own East Region's 40 – 44 years' 200m Backstroke record set in January to win in a time of 2:42.58. Completing a hat-trick of Beds County Masters records, Jo won her 400m Freestyle  in 5:12.13 whilst being pipped in the 50m Backstroke into the silver medal position. Jo's time of 36.13 seconds lowered Karen's record for that age group.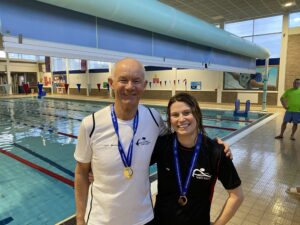 Karen, in Bracknell, meanwhile demolished the Beds County 50 – 54 years' 200m Backstroke by over 30 seconds to finish second in 2:54.63 . Her 50m Backstroke, where she claimed third spot, and 50m Freestyle times of 37.27 and 33.05 seconds also set new Club Masters records for Karen's "new" age group.
Colin Mayes had "walk-over" victories in his 65 – 69 years' 100m and 200m Individual medley swims.
Sth East Masters Long Course – Crawley: January
Two East Region, four County and eight Club records with three Gold, six Silver and three Bronze medals. That's the way to kick start the new Masters season!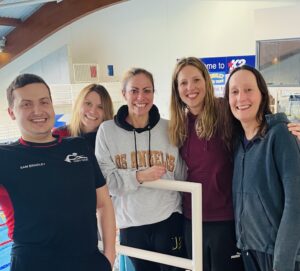 The East Region records were claimed by Jo Mitchinson. She swept to victory in the 40 – 44 years' 100m and 200m Backstroke with times of 1:16.84 and 2:44.50. Jo also took home a bronze medal for her 50m Butterfly, finishing one place ahead of Michelle Neal.
Not to go home empty handed, Michelle Neal collected a silver for her 50m Freestyle as did Kelly Cooke in the 45 – 49 years' age group whilst matching Michelle's 50m Butterfly placing.
Moving up into the 50 -54 years' age group, Karen MacKenzie won gold (50m Freestyle), two silvers (100m Backstroke & 200m Individual Medley) and a bronze medal (200m Backstroke). Karen's times of 3:09.90 and 3:02.06 in the two longer events demolished the existing Beds County records for that age group whilst both of her shorter events produced new Club Masters' records.
Sam Bradley also took the opportunity of moving up an age group to  set new Club Masters' records for the Men's 30 – 34 years' 200m Freestyle, 100m & 200m Backstroke. Silver medals came with both his Backstroke swims but he had to settle for a bronze for the 200m Freestyle.