Team Luton's men achieved their best ever result in the 2015 Great Britain Masters Decathlon Team competition. Having amassed a grand total of 16,321 points they finished in 13th place.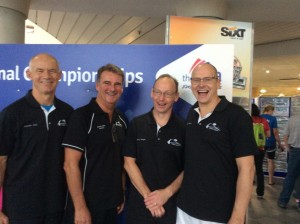 In 2013 Team Luton broke into the top 30 for the first time, finishing  in 23rd place with 12,468 points. This was achieved over 33 out of a potential maximum total of 40 qualifying races. In 2014 the men's team smashed their way into the top 20,  ending it in 14th place with 14,555 points (from 37 races).
The 2015 team of Colin Mayes (aged 60), Alastair Gibb (55), Dave Wright (54) and Graham Powell (59) went one place higher, scoring over 1,800 more points than in 2014 from the same number of (37) races.
In the individual decathlon competition Graham Powell finished in 33rd position with 5,121 points from his ten qualifying races. In 2014  Graham only swam in nine races to finish 46th with 4,501 points.
Alastair Gibb  secured 4,110  points from his ten races, 159 more than in 2014, to be placed 97th individually.
Having swum in one more qualifying race than the previous year, Dave Wright secured 3,810 points for the team  to be ranked 124th (compared to 3,405 pts and 151st place in 2014).
Colin Mayes was Team Luton's fourth highest scoring male in 2015 with 3,280 points from eight races. He scored 2,298 points in 2014 from five races.
The decathlon competition is based on FINA points awarded for age adjusted times recorded in up to ten individual events, across six different categories, from the various Masters competitions held throughout the year. This is to encourage swimmers to compete in a variety of events and not just their favourite ones. The highest scoring four swimmers from each club are combined together for the team competition.