Congratulations to our men who have finished in 15th place in the 2016 Great Britain Masters Decathlon Team competition, having amassed a grand total of 16,495 points.
 It is the third successive year they have finished in the Top 20.
Well done also to our ladies team who rose to 142nd  (out of 459 teams), a massive leap up from 315th place in 2015.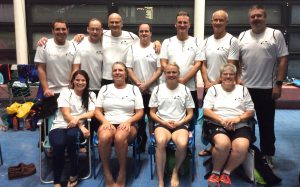 Team Luton's male Masters broke into the top 30 for the first time, back in 2013, finishing in 23rd place with 12,468 points. The following year a total of 14,555 points gained them 14th place. 2015 saw them edge up to 13th with 16,321 points.
Come 2016, between them, Malcolm Barton (aged 61), Graham Powell (60), Alastair Gibb (56) and Dave Wright (55) achieved the club's highest ever points in the team competition.
The decathlon competition is based on FINA points awarded for age adjusted times recorded in up to ten individual events, across six different categories, from the various Masters competitions held throughout the year. This is to encourage swimmers to compete in a variety of events and not just their preferred ones. The highest scoring four swimmers from each club are combined together for the team competition.
In the individual Men's decathlon competition Graham Powell broke into the Top 30 for the first time, finishing in 29th place with 5,279 points, up from 33rd in 2015 when he gained 5,121 points. This news rounded off a great year for Graham which saw him break the British record for Men aged 60 -64 years over 50m Backstroke and collect two medals (a silver and a bronze) at the European Masters.
In 2016 Dave Wright won both the GB and National 200m Butterfly for his 55 – 59 year age group. However with the decathlon Dave was able to show his versatility. Across his ten qualifying races he amassed 4,215 points. That saw him finish 98th in the individual decathlon, up from 2015 when he finished 124th with 3,810 points.
Alastair Gibb just dropped out of the top 100, slipping from 94th to 106th place In a season interrupted by treatment for a heart condition, Alastair still gained 4,117 points, his highest ever total.
Malcolm Barton edged out club mate Colin Mayes to be Team Luton's fourth highest scoring male, capping a year of many notable achievements which included his first ever Open Water swimming championships and a Bronze medal at the GB Masters. Malcolm scored 2,884 decathlon points in 2016, up from 2,252 in 2015, and so finished 317th, one place above Colin who scored 2,882 points.
John O'Rourke, aged 47, climbed from 563rd to 375th place scoring 2,691 points, an increase of 470 points. Returning to Masters competitions in October 2016, Mark Wareham, age 45, accumulated 2,512 points to finish in 453rd place.
Twenty four year old Jonathan Pennell meanwhile made his "Seniors" competitive debut in November for Team Luton. He scored 2,250 points from just 6 events to finish in 589th place. Seniors compete in an 18 – 24 years age group as an introduction to the Masters competitions that then see swimmers aged 25 and over compete in 5 year age group bands.
Over 2,600 men took place in the individual competition.
The club only had two ladies compete in Masters meets in 2015 so as a team they finished down in 315th from just 7 qualifying races.
Last year six women, Karen Mackenzie, Lorraine Sadler, Glenda Mayes, Eloise Turner, Sharon Collins and Gwendalyn Skingley with ages ranging from 34 to 60 years competed. Although the ladies decathlon team still entered only half the maximum number of potential qualifying races, an aggregate of 5,786 points saw them finish in 142nd place nationally.
The jump up the national table and the fun team spirit, ever present at early morning training or weekend competitions, has encouraged the ladies to contemplate entering more meets and different qualifying races in 2017.
All of the above is of course testament to the encouragement given year round by Pauline Harrington, the club's Masters coach, assisted by Jane Cattle.