Five members of the club competed in the East Region Open Water championships held at Norwich.
In the Girls' 11-12 years 800m Zara Fallon finished in 16th place in a time of 14:57.85. Zara was the 4th fastest Beds swimmer in her age group, just 1.74 seconds behind the 3rd place swimmer.
Fourteen year old sister Anna was the fastest Beds swimmer in the Girls' 12-16 years 1.5k, finishing 4th in the East Region competition in a time of 20:51.37.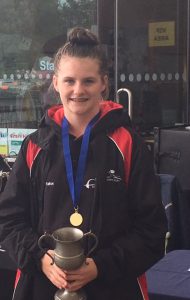 In the Women's 17-19 years 3k, Amy Pelling was placed 7th in a time of 56:55.10 and was the 2nd fastest in her County event.
Nicola Pasquire came 4th in the Women's' 17-19 years 5k, in a time of 1:7:46.40, missing out on a bronze medal by 46 seconds but had the consolation of being the top ranked Beds swimmer. Competing subsequently in the English National event in Sheffield Nicola recorded a time of 1:7:3.59 to finish 9th in the 17-19 years age group.
Dave Wright made it to the East Region's medal podium for the second successive year coming 2nd in the Men's 50-59 years' 3k. Dave's time was 47:18.10.