TEAM LUTON EXCEL IN EAST REGION CHAMPIONSHIPS
Team Luton have had a successful campaign in both the recent East Region Open Water and Long Course swimming championships winning a total of five gold, seven silver and five bronze medals.
Nine club members members took to the open water championships held in Norwich and all of the competitors, young and old, excelled themselves.
In his very first open water competition, Malcolm Barton won the Men's 1,500m race for the 60 years and overs. His winning time of 27 minutes 38 seconds would have also placed him 2nd in both the 40 – 49 years and 50 – 59 years age groups.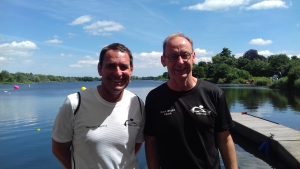 Father and son, David and Matthew Wright both came away with silver medals in the Men's 50 – 59 year age group 3,000m and the Boys 17 – 19 years 5,000m respectively. For Matthew it was a pain-stakingly close dash for the finish line. His time of 1 hour 2 minutes 17.8 seconds was a mere 3/100ths of a second behind the winner.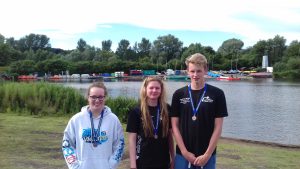 In the Girls 17 – 19 years 5,000m Nicola Pasquire collected a bronze medal with team – mate Amy Pelling finishing in 13th place.
Both Matthew and Nicola qualified to compete in the National Age Group Open Water championships.
The club's younger swimmers finished just outside the medals but all can take pride from their individual performances.
In the Girls Novice 800m, twelve year old Eilidh Dunwoodie finished 4th in the 11 – 12 year age group whilst in the 13 -14 year age group thirteen year old Anna Fallon also finished 4th.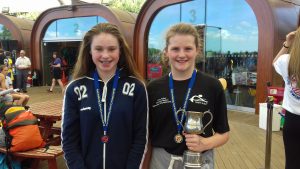 As twelve year olds Jessica Keogh and Jacob Hayhurst almost inevitably came well down the overall field in their 12 – 16 year age group 1,500m events finishing respectively in 16th and 36th place. However, in relation to the swimmers of their own age, they finished in 2nd and 4th position.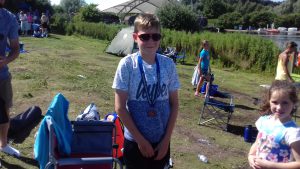 These open water swims followed on from the Long Course championships held over two separate weekends at the 50 metre pools in Norwich and Luton.
The Boys 1,500m Freestyle events saw Matthew Wright and Ralph Muncer collect silver medals in the 17 years and over and the 15 years old age groups, with Rhys Davidson winning a bronze in the 11/12 years old age group.
Ralph also won two bronze medals for his 100m and 200m Breaststroke races whilst Rhys won two further bronze medals for his 200m and 400m Individual Medley.
Chantal Smith's stamina paid dividends as she won a gold in the 16 years 800m Freestyle and silver in the 400m Freestyle. Nicola Pasquire swam to a silver medal in the 17 years and over 200m Butterfly. Lauren Young meanwhile won each of those events in her 13 years old age group.
Although Chiara Rogers did not win any medals, she set five new club records for 12 year olds on 50m, 100m, 200m Butterfly, 200m Breaststroke and 200m Individual Medley. Eilidh Dunwoodie broke the club record for the 12 years old 50m Backstroke.
Freddie Symonds was a finalist in the 14 year olds 50m, 100m and 200m Breaststroke whilst Jessica Keogh made the final of the 12 years old 100m Freestyle.
Abbie Barnwell, Henry Flatt, Laila Gilbert and Jade Whitehouse achieved personal best times ("PBs")in some of their races. Meanwhile Lucy Gee swam her fastest long course 200m Butterfly for the past year.
Both Alex Mason and Milly Davidson swam well but just below their PBs recorded at the Beds County Championships earlier in the year.
Congratulations to everyone.