The recent 2020 County Championships saw 56 of our swimmers battle it out against the seven other swimming clubs in Bedfordshire over 3 weekends. In total the team had more than 500 swims and excelled across the board- winning 146 individual medals, 19 Senior and Junior Championship Trophies and 6 Relay Trophies. Over the Championships 2 of our swimmers even broke County Records.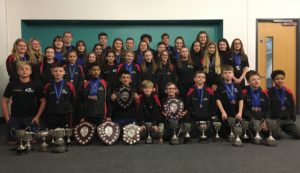 It was also particularly impressive to see all of the Club's swimmers perform under pressure – setting new Personal Best times in over 86% of their races.  The step up into finals was 91%.
Swimmers, parents and all of our supporters can be proud of the performances. Head Coach Rikki Morris was particularly pleased with the progress made by the younger swimmers from our Skills and Development Squads, most of whom were competing in their first County Championships.
All credit therefore goes to our younger swimmers. The boys were represented by Kyle Lewis, Owain Roberts Emanuel Kolobius, Dylan Rogers, Archie Baxter, Charlie Barnwell and Bobby Dunchev, and the girls by Lauren Calvert, Stella Lloyd, Nicole Cashin, Emlly Calvert, Ella Pruce, Ava Howard and Camellia Abdi.  Special mention needs to go to Emily and Nicole who both set new club records on the way.
There were also individual honours for our Performance Squad swimmers. Mathew Wright won 8 Senior titles matching his total of last year, Celyn Walmsley won 7 Senior titles (one more than last year) and Menna Walmsley won her first Senior Ladies title in the 200 fly. In the Junior Championships, Abdel Abdi was in winning form collecting 3 titles.
The two county records broken were for Celyn in the Senior 1500 Freestyle where she beat her own record gained last year and Rhys in the 100 Breastroke breaking a Junior record set in 1981.
We were also well represented in the medals awarded for the best age group swims of the championships: –
Emily Calvert              2nd in the Girls 10 years age group
Emmanuel Kolobius   3rd in the Boys 11 years age group
Ollie O'Connor            2nd in the Boys 12 years age group
Lyla Howard                2nd in the Girls 13 years age group
Lily Hobdell                 3rd in the Girls 13 years age group
The individual medals were won by Abdel Abdi (6), Jayden Boussac (1), Nicole Cahsin (2), Rhys Davidson (15), Zara Fallon (1), Lily Hobdell (1), Lyla Howard (14), Jack Juggins (6), Caitlyn Kean (2), Finley Kiernan (2), Emmanuel Kolobius (5), Ollie O'Connor (9), Owain Roberts (3), Chiara Rogers (1), Celyn Walmsley (12), Menna Walmsley (7), JJ Wilde (6) and Matthew Wright (8)
In the team relays there was more medal success for the swimmers.  In the 10/11 years age group the boys relay team of Emmanuel, Dylan, Kyle and Owain won Silver in the 200m Boys Medley and Gold in 200m Free. In the 10/11 years age group the Club also won Bronze in the Mixed 200m Free.  In the 12/13 years age group there were Golds in Girls 200m Medley, Girls 200m Free and Mixed 200m Free for Lyla, Caitlyn, Lily, Millie, Olly and Finley. There was also Bronze for the Boys 200m Medley, Silver for the Mixed 200m Medley and Silver Boys 200m Free.  The B team 12/13 swimmers were so close coming 4th in 200 Free Mixed and 200 Free and just missing out on a medal.
The older swimmers also had fun in the relays. In the 14/15 years age group the boys won Bronze for the 200m Free. In the Open Age Group the women won Bronze in the 400m Free and Bronze in the Mixed 200m Free. Also in the Open age group the Men won Bronze in 200m and 400m Medleys, and the team of Matt, Rhys, Alex and JJ won Gold in the 200m Free and 400m Free relays.
Not all swimmers won individual medals at this year's Championships, but there were still great performances from our other swimmers competing this year –  Sarah Abdi, Abbie Barnwell, Kirsten Bashford, Jen Brooks, Milly Davidson, Shannay Davies, Isobel Dean, Lauren Donnelly, Anna Fallon, Keira Greene, Aaron Hird, Lauren Hooker, Oliver Hunt, Millie Hyde, Freya Kiernan, Spencer Leaning, Catherine Lempriere, Alex Mason, Isobel McCulloch, Jo Mitchinson, Alfred Mureithi, Daniella Njawaya, Freddie Symonds, Ben Theron, Lewis Ward, Jen White and Godfrey Williams.  They should all be proud for getting to finals and gaining big PB's
Well done all. And to all of our fabulous coaches and poolside helpers.