Following promotion last year to Division 1 of the M11 League of the Arena Junior Inter League**, our juniors competed at Basildon in Round 1 of the 2017 competition on 23rd April.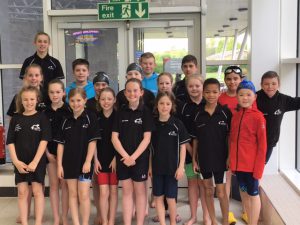 For many of our swimmers this was their first experience of competing in a gala at a non- Team Luton venue.
The squad put on an excellent display of team work, enthusiasm and fast swimming. Well done to all who took part. Coaches Mandy and Lucy Gee are proud of you. Thanks also to the supporting parents.
Everyone's now eagerly looking forward to Round 2 on Sunday 21st May.
**The aim of the Inter-League is to promote inter-club competitions for junior swimmers (9 -12 years), to encourage their progression in swimming and participation in sport. There are currently 11 Leagues  in the Arena Junior Inter- League with over 200 swimming teams throughout England and one team from Wales.