Our swimmers were in spectacular form over the two May Bank Holiday weekends securing a grand total of 3 Gold, 4 Silver and Two Bronze medals with personal best long course times ("PBs") being achieved in abundance.
Nine swimmers competed in the Junior age group championships held over three days at Norwich.
Rhys Davidson demonstrated his stamina racing a total of 3,800 metres in an assortment of heats and finals over the three days of competition. His efforts were rewarded with a gold medal in the 13 years old age group's 400m Individual Medley, silver in the 1,500m Freestyle, and bronze over both 200m Butterfly and Individual Medley ("IM"). Rhys missed out on a further bronze over 200m Backstroke by less than one second. Competing in a total of eight events, Rhys recorded PBs in five of them. His winning 400m IM time of 5.11.92 was a massive 28 second improvement on his swim in that event a year previously.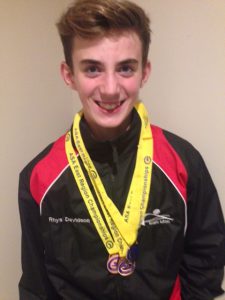 Although not yet 11 years old, Jack Juggins was not perturbed by the older boys as he competed in the 11/12 years old 50m, 100m & 200m Freestyle and recorded PBs in both his 50m and 100m Backstroke.
Competing in six events in the girl's 14 years old age group Abbie Barnwell achieved a PB by over 1.5 seconds in the 200m Freestyle with other PBs coming in the 100m Breaststroke, 200m Breaststroke and 400m IM. Anna Fallon also swam a PB by 3 seconds in the same 400m IM whilst Chiara Rogers came away from her five events with a PB over 50m Breaststroke.
Further PBs were recorded in the 13 years age group by Menna Walmsley over 50m Butterfly and Eleanor Robertson over 50m Freestyle.
Both Charlotte and Susana Opoku-Gyamfi swam within 0.75 seconds of their respective PBs over 50m Butterfly and 50m Breaststroke.
As Head Coach, Adam Taylor, commented, "All swimmers came away with plenty of process goals to work on into their final competitions of the season. Congratulations to all who competed and represented Team Luton so professionally!"
The results from Norwich followed on from the successes enjoyed by our older swimmers at the East Region's Youth and Open Age Group Championships held at our home pool, Luton's Inspire Sports Village.
Chantal Smith won Gold in the 17 years and over 800m Freestyle and Silver in both the 200m and 400m Freestyle, recording PBs over both 200m and 800m. A further PB by 1.5 seconds came as Chantal finished in fourth place in her 400m IM.
Celyn Walmsley won Gold in the 16 years age group's 200m IM with a time of 2.28.78, over a ten second improvement on her PB over the past year. Another PB was recorded as Celyn won a Silver over 400m IM. Further massive PBs came over 100m and 200m Breaststroke, finishing 5th in both finals,  with Celyn also making the final of her 200m Backstroke, touching in 6th place.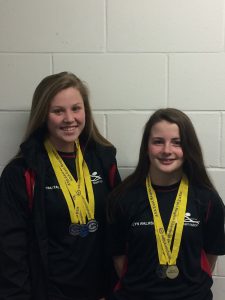 Not to be outdone Freddie Symonds swam in the 15 years old 50m, 100m and 200m Breaststroke. In qualifying for the final of the latter event, Freddie recorded a time of 2:45.04, a PB by over two seconds. He finished in 7th place.
Home briefly from his final year of studying at Southampton University, Alex Mason competed over 200m and 400m on Freestyle and IM. Alex's time in the 400M IM was the fastest he had swum in that event since January 2016.
Well done to everyone. It's less than a year since Adam Taylor took over as Head Coach but all the hard work is clearly being shown by the massive improvements in performances.