Team Luton had a highly successful Beds County & Age Group championships with our swimmers claiming 14 Senior and 11 Junior titles and posting a new entry in the County record book.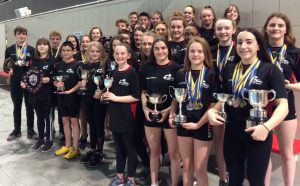 Finishing as runners up on points to Modernian as the Top Club for the second successive year, an analysis of the full results reveal that we were the most successful club in terms of a Medal Table.
| | | | | |
| --- | --- | --- | --- | --- |
| CLUB | GOLD | SILVER | BRONZE | TOTAL |
| | | | | |
| TEAM LUTON | 78 | 47 | 35 | 160 |
| Modernian | 67 | 71 | 55 | 193 |
| Putteridge | 37 | 35 | 27 | 99 |
| Dunstable | 25 | 21 | 23 | 69 |
| Biggleswade | 20 | 27 | 28 | 75 |
| Flitwick | 18 | 18 | 40 | 76 |
| Linslade | 14 | 18 | 20 | 52 |
| Leighton Bzd | 8 | 22 | 25 | 55 |
A change was made last year to the County's Top Club award.  It was changed to a fairer points system which recognises a great number of swimmers' performances by awarding 8 points down to 1 point for the first eight places (with double points for relays). Perhaps inevitably with 59 individual entrants, Bedford Modernian again finished top of the 2018 points' table with 1,641 points. However, with only 35 swimmers in the individual events we retained our second place with 1,100 points, over 160 points ahead of the third placed club.
Competitions are not just about winning medals. They are an opportunity for everyone to measure improvements in their own ability. Rikki Morris, our recently appointed new Head Coach, noted that we secured a very impressive personal best rate. Across the 2 weekends we came away with 293 personal best times – a personal best percentage of 84%.
TOP AGE GROUP SWIMS
At the Beds County championships accolades are given to the top individual swims in each of the younger age groups. It was therefore great to see our next generation of talented youngsters coming to the fore. The male 11 year olds' top swim went to Finley Kiernan whilst Lyla Howard won the female 11 year olds' top swim, narrowly beating team-mate Veronika Popow who took second place. Jack Juggins was recognised for the male 12 years' top swim. Rhys Davidson took 2nd in the male 14 years' top swim.
With 350 swims there were many excellent performances across all age groups.
Veronika Popow and Lyla Howard showed both great rivalry and team spirit by dominating the girls 10/11 years old age group, trading 1st and 2nd spot in most events they entered.
A special mention has to go out to the 3 girls that came away with gold, silver and bronze in the girls 10/11 100m Breaststroke final. Veronika took gold, Isobel McCulloch won the silver and Caitlyn Kean took home a hard earned bronze, having only qualified 8th fastest for the final; an incredible performance by all 3 girls.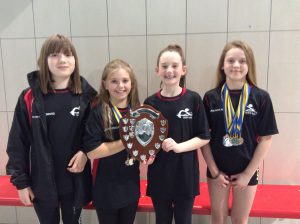 We also had a great turn out in the girls 10/11 50m Freestyle final with 5 of the 8 lanes taken by Team Luton; Lyla Howard took Gold, Veronika Popow the silver, Millie Hyde was 4th, Catherine Lempriere touched 6th and Isobel McCulloch finished in 7th place.
Finely Kiernan had a great meet and won lots of medals in the 10/11 years age group. His highlight swims came in the 50m and 100m freestyle where he dominated the field in both finals to win gold.
In the same age group Spencer Leaning won Gold in the 100m Fly.
Jack Juggins also had outstanding championships in the 12 year old age group. Beaten in the 50m Breaststroke and 50m Freestyle, he certainly made up for it by winning all of his other events.
Rhys Davidson put in another dominant performance across the championships, finishing 2nd in the 50m breaststroke and 100m freestyle, but winning gold in all of his other events. Rhys also picked up 5 Junior championship titles over 200m, 400m, 1500m Freestyle, 200m Fly and 400m IM despite ceding a year to older swimmers.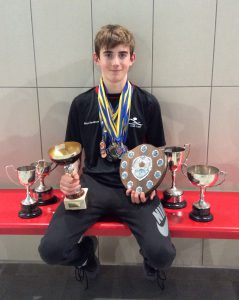 Menna Walmsley had the best and most successful county championships of her career so far. Taking home silvers on the 50m, 100m and 200m Fly plus the 800m Freestyle and 400m IM, they were the first county medals she has ever won. Menna also swam Fly in the 50m Freestyle final and didn't look out of place!
Jennifer Brooks also swam a fantastic counties swimming huge pbs in everything she swam. Highlights for Jennifer came in the 400m and 800m freestyle where she took home bronze in both events, her first county medals, in the 14 years age group.
JUNIOR & SENIOR COUNTY MEDALS & TITLES
Anna Fallon had been ill in the lead up to the meet but still put in a few stand out performances. Her highlight came in the 400m IM, where she smashed her pb by 5 seconds to take bronze in the 15 years age group and the Junior championship.
Oli Hunt won his first county medal, a bronze, in the Boys 15 years 50m breaststroke. It was a fantastic performance setting a massive lifetime best.
Chiara Rogers dominated the Girls County Breaststroke events, winning the 50m, 100m and 200m in her 15 years age group. Her times claimed the Junior and Senior County titles in the 100m and 200m plus the Junior's title in the 50m. Chiara also took gold in the 15 years and the Junior's title in the 100m fly.
Abbie Barnwell had a great championship, despite missing a week of training through illness in the lead up to the first weekend. Abbie's highlights came when she took home gold in both the 400m and 800m 15 years' Freestyle and the Junior championships.
Celyn Walmsley swam an impressive total of 26 races over the course of the two weekends, swimming best times in almost every event she swam. Senior County titles came in the 200m and 400m IM and the 200m Backstroke where each time she dominated the field from start to finish. Celyn also took home gold in the 100m and 200m breaststroke in her age group.
County record holder Chantal Smith's highlight came in the Open 400m Freestyle, with a well-paced race, where on the final 100m she broke away from the chasing pack to win by a convincing margin. A second Senior County title came in the 200m Butterfly.
Matthew Wright put in strong performances across the Open Men's championships, picking up 5 golds 2 silvers and a bronze. In the 400m freestyle Matt dominated the field to take gold. His time of 4:06.17 broke the previous County record by over 1.5 seconds.
RELAYS
Thanks to the participation of other swimmers, Jayden Boussac, Charlie Barnwell, Lewis Ward, Adil Setna, Ilyas Khalfoun, Freddie Symonds, Jamie Wright, Alfred Mureithi, Calla Howard, Zara Fallon, Daniela Njawaya, Serena King and Farriral Mangwende we were well represented in the relay events.
Once again we achieved some notable results.
Our 10/11 year girls' team of Lyla Howard, Veronika Popow, Millie Hyde and Isobel McCulloch took home gold in both the 4x50m medley and freestyle teams.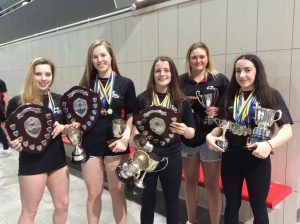 In the Open Relays there were some fantastic performances with our Ladies winning gold in the 4x50m medley, 4x100m medley and 4x100m freestyle. The medley teams comprised Ellie King (back), Celyn Walmsley (breast), Chiara Rogers (fly) and Chantal Smith (free). Representing the club in the freestyle relay the club were Chantal Smith, Abbie Barnwell, Chiara Rogers and Celyn Walmsley.
The quartet of Matt Wright, Michael Poynton, Alex Mason and Rhys Davidson won Silver in the Men's Open 400m Medley and a Bronze in the Open 400m Freestyle relay.
Our Other Team Luton Representatives
Our other competitors in the championships were Eleanor Blakemore, Freya Kiernan, Lauren Donnelly, Lauren Hooker, Milly Davidson, Rhiann Donnelly, Shannay Davies and Zara Fallon.