The 2017/18 competitive swimming season ended with a flurry of outstanding performances over a two-week period by Team Luton's swimmers across the length and breadth of the British Isles. One English champion, four National medals, two County records and numerous personal best times were the icing on the cake for a year which has seen well over 100 of the Club's own records broken.
Six of the Club's ten swimmers who qualified for the championships made finals in either Sheffield, Swansea or Dublin.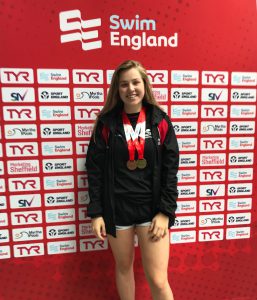 At the British Championships held in Sheffield, Chantal Smith recorded a six second personal best time to finish 9th in the Ladies' 17 years and over 1,500m Freestyle. Chantal then went from strength to strength over shorter distances with season best times on the same stroke the following week at the English Nationals. A ninth place in the 200m was topped two days later by a Bronze medal in her 400m Freestyle. After a further two days' rest, Chantal had the perfect end to the season claiming Gold in the 800m Freestyle in a time of 9:14.78.
Sixteen year old Celyn Walmsley was in record breaking form at both the British and English Nationals. Having finished in 12thplace in the 17 -18 years 800m Freestyle at the British Championships, Celyn smashed her personal best over 1,500m Freestyle by 19 seconds. Her time of 17:48.70, to finish 10th in the 17 – 18 years event, took over 7 seconds off the Senior Ladies Beds County record that had stood since 2009. Four days later, Celyn just missed out on a bronze medal at the English champs in her 400m IM. Still, Celyn had the satisfaction of beating a thirty year-old County record by half a second to set new figures of 5:05.88 as she touched in 4thplace.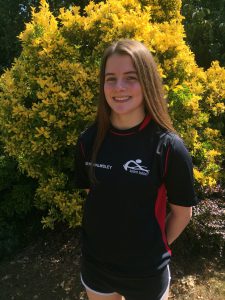 Rhys Davidson, aged 14, had only qualified as 17thfastest for the English Boys 13 –14 years' 100m Breaststroke. He smashed his personal best time to qualify 5th fastest for the final and then went one better to finish in 4thplace, with an overall 2.37 second personal improvement on the day. From 11th fastest qualifier a further personal best time of over 3 seconds was rewarded by a 7th place in the 200m Breaststroke. The next morning, after swimming a 200m Butterfly heat, Rhys still had the stamina to register a new personal best of 1:05.80 in his 100m Backstroke.
Chiara Rogers finished in 14th place in the English 15 years old 200m Breaststroke whilst 14 year old Abbie Barnwell also finished 14th in the Girls' Open Water 3km event.
Swimming for Bath University, where he has just finished his second year of studies, Matthew Wright gave further delight to the Team Luton supporters up in Sheffield. A personal best time of 2:07.58 saw Matt claw back over a second from the third placed swimmer at 150m to claim the Bronze medal in the English Men's 18 years and over 200m Butterfly.
Over in Swansea at the Welsh Summer Nationals, there were more stunning performances and personal best times. Shannay Davies (aged 16) swam 30.18 seconds in her 50m Freestyle to finish 10th and just miss the final by only 8/100ths of a second.  Anna Fallon (15) recorded personal bests in all three of her events. An improvement of over six seconds placed Anna 6th in her 400m IM, whilst she finished 7th in the final of her 200m Butterfly. Menna Walmsley (14) swam a personal best by over 3 seconds in her 200m IM but her best result came in her final event, the 200m Butterfly. A personal best by over a second in the final saw Menna claim a Bronze medal in a time of 2:34.36.
Meanwhile across the pond over in Dublin, Jennifer Brooks finished in 11th place in the Irish 14 years old 800m Freestyle where she also finished 26th in the 400m Freestyle.
The Club's Performance Swimmers and coaches led by Rikki Morris, Dave Wright and Tony Rogers are all now enjoying a well-deserved rest before the 2018/19 season kicks off. Team Luton hold the first of their Open Meets at the Inspire complex on 29thSeptember.