Fantastic performances by all of our swimmers contributed to a highly successful 2019 Beds County Championships held over three weekends.
Finishing second in the points tables to Bedford Modernian, we also achieved the second highest medal tally with 87 of our 188 medals being gold. We also brought home 30 of the 68 individual championship trophies.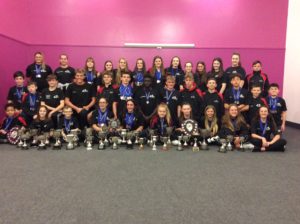 However, it was not just a story of medal and trophy winners.  With points being awarded to all of the top eight finishes in each race, every swim counted. That was highly significant, not least as we had fewer competitors than most of the other clubs.
The final points table was as follows:
1          Modernian                 2,301
2          Team Luton                1,511
3          Putteridge                  1,169
4          Flitwick                        1,136
5          Biggleswade              1,064
6          Leighton Buzzard   1,027
7          Linslade                            813
8          Dunstable                        649
It was also particularly impressive to see the Club's swimmers achieve personal best times in over 75% of the more than 500 swims.
Swimmers, parents and all of our supporters can be proud of the performances. Head Coach Rikki Morris was particularly pleased with the progress made by the younger swimmers, including those competing in their first county championships.
All credit therefore goes to our youngsters in the 10-11 years age group, with the boys represented by Jayden Boussac, Kyle Lewis, Owain Roberts and Emanuel Kolobius, and the girls represented by Sarah Abdi, Samaha Rasul Keira-Jo Greene, Isobel Dean, Lauren Calvert and Madeleine Hyde.
In terms of individual honours, our Performance Squad saw Mathew Wright win 8 Senior titles, including a new Beds County record for his 800m F/s, with Celyn Walmsley winning 6 and Chiara Rogers 1 Senior Ladies titles. In the Junior Championships, Rhys Davidson was in dominant form collecting 11 titles whilst Menna Walmsley won 3 and JJ Wilde 1.
We were also well represented in the medals awarded for the best age group swims of the championships: –
Owain Roberts: 3rd in the Boy's 10 years age group
Ollie O'Connor: 2nd in the 11 years age group
Finley Kiernan: 3rd in the 12 years age group
Jack Juggins: 3rd in the 13 years age group
Abdel Abdi: 2nd in the 14 years age group.
Lyla Howard: 1st in the Girl's 12 years age group.
Veronika Popow: 2nd in the 12 years age group.
On the individual medal role of honours are Abbie Barnwell (2), Abdel Abdi (6), Anna Fallon (4), Caitlyn Kean (1), Celyn Walmsley (11), Chiara Rogers (3), Daniella Njawaya (1), Ellie King (2), Finley Kiernan (5), Isobel McCulloch (1), Jack Juggins (12), Jennifer Brooks (1), Jj Wilde (8), Lewis Ward (1), Lyla Howard (11), Matthew Wright (8), Menna Walmsley (7), Ollie O'Connor (1), Owain Roberts (1), Rhys Davidson (15), Sarah Abdi (1), Tom Malia (2), Veronika Popow (12), Zara Fallon (1).
Valuable team points were also gained for this year's championship by great swims from Alfred Mureithi, Freddie Symonds, Ben Theron, Shannay Davies, Eleanor Blakemore, Oliver Hunt, Rhiann Donnelly, Daniella Njawaya, Kirsten Bashford, Milly Davidson, Lauren Hooker, Millie Hyde, Freya Kiernan, Lauren Donnelly, Spencer Leaning and Catherine Lempriere.
In addition to the individual honours, Team Luton also won 3 Golds in the Open Girls Medley and the Boys 14-15 years medley and freestyle relays.
Well done all…..and all of our coaches and poolside helpers.