Our swimmers delivered some excellent performances to finish in second place at the Bedfordshire ASA County Championships, held at Inspire Luton Sports Village.
The Championships were held over two consecutive weekends. A change to the format from 2016 meant every swimmer placed in a top 8 position for their age group would earn points for the team. For those swimmers competing in 50 or 100 metre events, finals were introduced for all age groups, which made the competition even more exciting for swimmers and spectators.
As a Team we amassed 1,078 points and won 26 gold, 25 silver and 30 bronze individual medals. The relay teams added a further two golds, four silver and six bronze medals.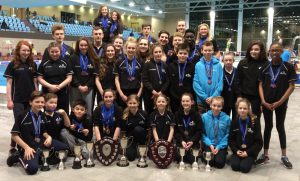 The Club was represented by the following swimmers in their respective age groups:
10/11 years – James Craig, Daniella Njawaya, Jack Juggins, Kaitlyn Butterly, Susana Opoku-Gyamfi, Aine Dunwoodie, Millie Hyde, Lewis Ward, Jayden Boussac, Finley Kiernan, Adeola Akande, Isobel McCulloch, Finlay Armstrong
12/13 years – Declan Beel, Emilia Dunwoodie, Ben Cornforth, Eilidh Dunwoodie, Eleanor Robertson, Hannah Armstrong, Jacob Hayhurst, Jennifer Brooks, Lauren Donnelly, Lauren Hooker, Malachi Gilbert, Menna Walmsley, Rhys Davidson, Chloe Craig, Freya Kiernan
14/15 years – Abbie Barnwell, Anna Fallon, Charlotte Opoku-Gyamfi, Alfred Mureithi, Eleanor Blakemore, Ewan Theron, Freddie Symonds, Guy Muncer,  Milly Davidson, Shannay Davies
16 years and over – Celyn Walmsley, Lewis Tune, Ralph Muncer, Rhiann Donnelly, Alex Mason, Beth Currant, Chantal Smith, Hannah Kelly, Jamie Wright, Lucy Gee, Callum Chapple, Matthew Wright, Abby Gee, Tom Burns
Senior County Trophies were won by Matthew Wright, Abby Gee and Celyn Walmsley, whilst Rhys Davidson and Freddie Symonds became Junior Champions. There were also age group gold medals for Abbie Barnwell, Emilia Dunwoodie, Eilidh Dunwoodie, Jack Juggins and James Craig who was swimming in his first ever counties.
Our Open 4×100 Mens medley relay team of Alex Mason, Ralph Muncer, Callum Chapple and Matthew Wright won gold in the final event of the championships. Not to be outdone Menna Walmsley, Eleanor Robertson, Emilia Dunwoodie and Eilidh Dunwoodie triumphed in the 12/13 girls freestyle relay. Congratulations must go to all our relay teams who did not give up the fight for a medal position.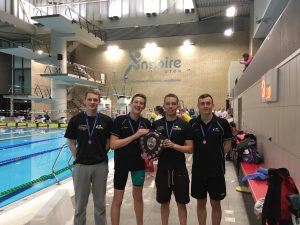 Three swimmers were awarded Top Swimmer trophies in their age group, by amassing the most FINA points throughout the competition. Jack Juggins won the 11 year old boys, Rhys Davidson 13 year old boys and Emilia Dunwoodie 12 year old girls. In addition Millie Hyde was third in the 10 year old girls, fourth place finishes for Abbie Barnwell (14 year old girls) and Danielle Njawaya (11 year old girls) a fifth place Aine Dunwoodie (10 year old girls) and sixth place Eilidh Dunwoodie (13 year old girls).
Head Coach, Adam Taylor was pleased with all swimmers. "We have put a lot of emphasis on skill development, especially are newer swimmers, and it was good to see their progress with many breaking club records, reaching finals and winning medals".
The hard training now continues with our swimmers preparing for events in Sheffield and Norwich ahead of the East Region championships in May. The younger swimmers are also in training for the 2017 M11 league, having won promotion in the 2016 competition.