Six of the Club's swimmers competed at the British and or English Summer Championships held respectively in Glasgow (23rd – 28th July) and Sheffield (31st July – 4th August). 
Celyn Walmsley, Rhys Davidson and Jj Wilde all made finals but in literally the very last event over the two competitions, Matt Wright claimed a silver medal for Team Luton in the 19 years & over 400m Freestyle with a blistering final 50m.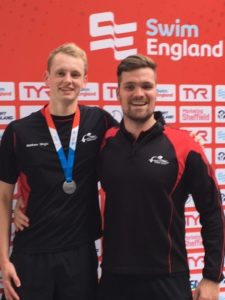 Rhys Davidson had an intensive programme having qualified to swim in a total of 8 events over the eleven day period. Starting off in the British 15 year old Boys' 100m breaststroke, Rhys knocked 0. 25 seconds off his pb to finish in 19th place. Moving on to Sheffield Rhys chipped 0.1 seconds off his 50m Freestyle to finish 12th = whilst finishing 13th in his 400m Individual Medley. A 0.26 second pb saw Rhys come 13th in his age group's 100m Freestyle. After then competing in the 200m IM (14th) and 100m Backstroke (16th), Rhys qualified in 10th place for the final of his 50m Breaststroke. His time of 32.25 seconds represented  a 0.23 improvement on his 50m  pb.  Having seen club mate Jj Wilde reduce the club's 15 years' age group record to 32.18 at the British champs, Rhys excelled himself to finish 4th in the English National final with a new club record and a further pb time of 31.66. Finishing his 2018/19 competitive season with a 400m Freestyle, Rhys was only 0.53 seconds outside of his pb, to be placed 15th.
Jj Wilde had clipped 0.01 off his pb to finish 19th in the 15 year boys' British 50m Breaststroke. Taking 0.13 seconds off his 50m Freestyle pb to qualify in 10th place for the final, Jj then swam a further 0.16 seconds quicker to finish 8th in the final in a new  Club record time of 24.88 seconds.
Competing in four events, Celyn Walmsley covered the greatest distance over the two meets. Finishing 12th in the British 17 & 18 year Girls' 1,500m Freestyle, Celyn proceeded to claim 9th place in the final of the English 400m IM, 13th in the 200m IM & 8th in her 800m F/s.
Having just finished his three years at Bath University, Matt Wright chipped 0.35 seconds of his entry time to finish 12th in the British 19 years & over 800m Freestyle whilst finishing 23rd in the 200m Backstroke. At the English championships, Matt was back swimming for Team Luton where he came 11th equal in his 200m Butterfly. However, Matt saved his best swim to the very end. Only qualifying in 7th place for the 400m freestyle final, Matt swam a blistering sub 30 second final 50m to move up from fourth place to claim his silver medal in a time of 4:07.14.
Chiara Rogers came 15th in the British 16 year old Girls 200m Breaststroke with her time of 2:50.64.
In the 19 years & over British 1,500m Freestyle Chantal Smith, representing Stirling University, matched her Team Luton club mate Celyn's position to finish 12th.