Four of our Performance swimmers rounded off their 2018/19 competitive season in spectacular style, registering personal best times whilst claiming two gold, three silver and one bronze medal at the Swim Wales Summer Open held in Swansea.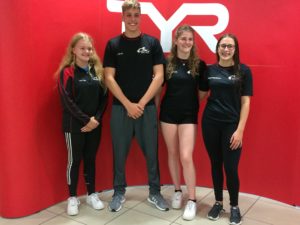 Menna Walmsley was the first to claim a medal finishing 2nd in the Girls' 15 years 100m Butterfly, having shown a good progression between heats and the final. Taking 0.17 seconds off her entry time to qualify for the final, Menna was only in 5th position at the turn but stormed back to clinch the silver in a time of 1:8.09, a 0.82 second improvement on the day on her previous best time.  Menna then qualified for the final of her 200m Butterfly, clipping 0.06 seconds off her pb. She proceeded to smash her pb by a further 3.13 seconds to claim a second silver in a time of 2:29.69. A third pb came with her 5th place finish in the 50m Butterfly, whilst finishing 7th in her age group's 400m IM.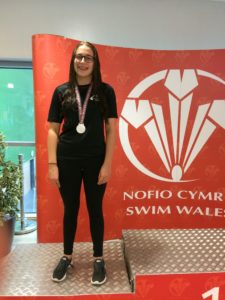 Anna Fallon had also posted a small improvement on her 50m Butterfly pb and just missed out on making the 16 years' 100m final, finishing in 10th place. Emulating that position in her 200m Backstroke heat, Anna qualified third fastest for her 200m Butterfly final. With 50m to go, Anna was in third place but crushed the opposition to claim gold in a time of 2:32.8. That was a two second improvement on Anna's previous best time. Anna completed her championships with a bronze medal in her 400m IM.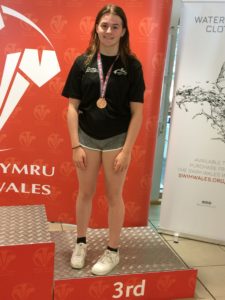 In the Boys' 15 year events, Jj Wilde posted a personal best time in his 100m Breaststroke heat and bettered it again in the final. Jj's final time of 1:12.20 represented a 1.27 second improvement but was just 0.05 away from a medal, touching 4th. Qualifying for his 50m Butterfly final, Jj improved on his pb by 0.74 seconds. Finishing 5th in the final with a further 0.16  improvement, Jj's time of 28.03 beat the club's age group record of 28.84 that had stood since 2001.  Turning to his freestyle events, Jj claimed a silver medal for his 2:03.74 over 200m. Come the 100m final, Jj turned equal 1st at 50m with a split of 26.14 seconds. A strong last 50m saw Jj collect gold by 0.32 seconds with his winning time of 54.65 seconds being a pb by 1.35 seconds. It also broke the Club's age group record of 55.13 that had stood since 2004.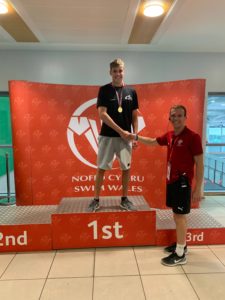 Zara Fallon was just 0.06 outside of her pb in the 14 year girls' 50m Freestyle, finishing in a time of 32.36 seconds.