The end of the 2015/16 competitive season saw several of our swimmers competing at the ASA (English), Welsh and Irish National Age Group Championships.
In Swansea, Celyn Walmsley stormed to a Gold Medal in the final of the 15 years 200m Breaststroke. With a heat time of 2:58:03, Celyn had qualified fastest by over four seconds. In the final she led from the start but was pushed hard all the way, winning the event by just 0.85 seconds. Her time of 2:54.67 beat her own previous best time by almost a full second.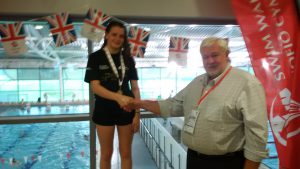 Three Team Luton swimmers qualified to swim at the English nationals in Sheffield.
Ralph Muncer competing in the 15 years old age group swam a personal best time every time he entered the pool. A personal best time by over two seconds of 1:10.84 in the final of his 100m Breaststroke earned him 6th place. The following morning he swam a time of 2:35:45 to qualify 3rd fastest for the 200m Breaststroke final. There was little chance to rest with a 1500m Freestyle swim in the afternoon. His time of 17:27.69, a personal best by 3.62 seconds, saw him finish in 8th position. That same evening he was back in the pool and finished strongly in a time of 2:31.70 to clinch the silver medal for his 200m Breaststroke. This represented a total improvement over the day of 4.63 seconds on his best time.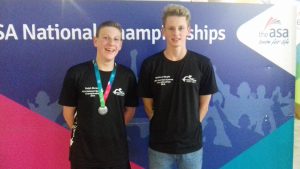 In the 18 years and over 1,500m Freestyle, Matthew Wright recorded a time of 16:48:30 to finish in 5th place, agonisingly less than two seconds behind the winner of the bronze medal.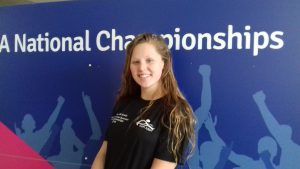 Chantal Smith finished in 15th place for her 16 years old 400m Freestyle swim of 4:47.54. In the 800m Freestyle her time of 9:47:46 earned her 11th place.
Meanwhile Eilidh Dunwoodie and Chiara Rogers both competed in multiple events at the Irish Nationals.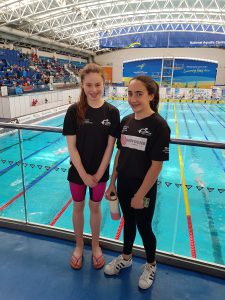 Eilidh swam in eight events in the 12 years and under age group. Having finished 9th in the final of the 100m Backstroke, Eilidh's best result came in the final of the 200m Backstroke where she finished 5th. Her time of 2:46.72 was a personal best.
Competing in five events in the 13-14 years age group, Chiara finished in 12th place in the 200m Breaststroke and in 13th position in both the 100m Breaststroke and 200m Butterfly.