Our male Masters claimed 23rd place in the GB Team Decathlon competition for 2022 with Graham Powell finishing as the 22nd highest ranking individual. Once again we finished as the top Men's Club in not only the County but also in the East Region.
The team results take the top four highest scoring individuals from each of the 441 Clubs that were represented in the Masters Decathlon competition. For 2022 Graham, Dave Wright and Alastair Gibb were joined by John O'Rourke who just eclipsed Malcolm Barton for the fourth spot.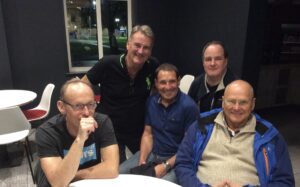 Our Ladies team of Karen MacKenzie, Kelly Cooke, Michelle Neal and Lorraine Sadler only participated in a total of 23 out of a potential maximum 40 qualifying events during 2022. However they still finished 71st nationally (out of 374 clubs) with Karen claiming the 100th individual's spot.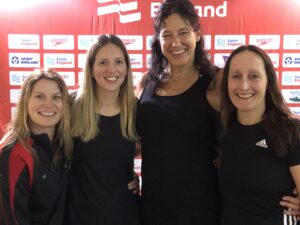 After two years of the Covid pandemic restricting the racing opportunities it was encouraging to see our older Club swimmers gradually returning to competition and how they had maintained, if not improved on, their individual decathlon performances.
Over 1,900 men and over 1,500 ladies participated in the Decathlon competition.
The full individual points and rankings for our swimmers are shown below:
Men's Decathlon Results 2022
BEDS
RANKING
2022
GB
RANKING
2022
NAME
Age
(2022)
2022
POINTS
(No. of Events)
2020/21
POINTS
(No. of Events)
2019
POINTS
(No. of Events)
2nd
22nd
Graham Powell
66
5,208 (10)
2,145 (4)
5,115 (10)
4th

116th
Dave Wright
61
3,561 (8)
3,126 (7)
3,837 (10)
5th
152nd
Alastair Gibb
62
3,310 (10)
3,413 (10)
3,660 (10)
12th
499th
John O'Rourke
53
2,154 (9)
2,660 (10)
13th
517th
Malcolm Barton
67
2,115 (7)
1,840 (5)
2,352 (8)
14th
537th
Colin Mayes
67
2,073 (5)
2,038 (5)
2,905 (7)
15th
601st
Sam Bradley
29
1,964 (10)
1,685 (8)
2,210 (10)
Ian Stoughton
63
2,142 (5)
Alex Mason
26
5,110 (10)
Nathan Bentley
23
1,667 (4)
Ladies Decathlon Results 2022
BEDS
RANKING
2022
GB
RANKING
2022
NAME
AGE
(2022)
2022
POINTS
(No. of Events)
2020/21
POINTS
(No. of Events)
2019
POINTS
(No.of Events)
5th
100th
Karen MacKenzie
49
3,560 (9)
1,621 (4)
3,881 (10)
11th
351st
Kelly Cooke
46
2,203 (5)
1,781 (4)
2,024 (5)
16th
625th
Michelle Neal
42
1,571 (4)
1,472 (4)
1,813 (5)
21st
875th
Lorraine Sadler
51
1,138 (5)
935 (4)
26th
1,369th
Sharon Thompson
55
415 (2)
1,835 (10)
Jo Mitchinson
43
3,196 (6)
Alice Pinney
23
1,330 (4)
2,290 (7)
Laura Smith
28
1,120 (3)
2,785 (7)
Jodie Armstrong
40
1,621 (4)
Sonia Bentley
54
1,047 (4)
Gwen Skingley
40
814 (4)
Clare "Chippy" Murphy - Snape
43
635 (3)