Inter- Counties, Etwall & Welsh Short Course: Oct – Dec 2022
Kelly Cooke, Karen MacKenzie, together with father and son, Dave & Matthew Wright, helped Beds win the East Region's Masters Inter Counties. In his first foray into "Masters" meets, Matt's time of 26.48 seconds in the 50m Backstroke was both an East & County record for the 18-24 years' age group whilst his 50m Butterfly also broke the Club's Seniors record for that age group.
Graham Powell's time of 1:09.39 broke the 100m Freestyle Beds 65 – 69 years' record at Etwall's annual Masters meet in Derbyshire, where he completed his 2022 Decathlon with a 50m Breaststroke.
Alastair Gibb also boosted  his decathlon score whilst collecting four silver medals at December's Welsh National Masters' Short Course championships in the 60 – 64 years' age group. He was joined in Newport by Dean Kelly who, having relocated to Luton in the summer, collected a silver for his 18 – 24 years' 25m butterfly in what was his first race in three years.
Swim England National Masters – Oct 2022
The Ponds Forge pool in Sheffield for Swim England's National Masters Championships proved once again to be the venue for a multitude of fast swims.  Club members established three new Eastern Region, seven Beds County and twelve Club records whilst several swam "lifetime" Masters personal bests, even in events in which they had not competed for a few years. The benefits of a full year's training after the Covid lockdowns in 2020 and 2021 clearly paid dividends!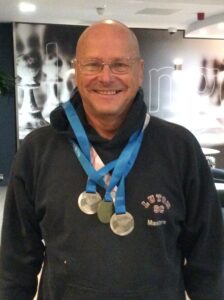 In the weeks leading up to the meet, Graham Powell had said this year for him was all about times, rather than medals. How prophetic? Claiming a silver medal for his first event, the 100m Backstroke, Graham was just 0.03 seconds outside his own 65 – 69 years' age group Beds record. Then the records tumbled. Two Eastern Region records came with three gold medals for his 100m Butterfly (1:14.70), 200m IM (2:50.94) and 200m Backstroke (2:45.47). A third Eastern record was broken with a silver in his 50m Backstroke (33.78) To cap off his weekend, Graham's new County record time of 1:16.22 for his 100m IM bronze medal was just 0.04 seconds outside the East Region mark.
Competing in the same age group Colin Mayes and Malcolm Barton were both unlucky to pick up medals, finishing in the top ten in all their races. Colin claimed 4th place for three of his events, his 50m Breaststroke, 100m Breaststroke and 400m IM, whilst finishing 5th in the 200m IM. The times in his Breaststroke sprint and the 400m IM were new County records. Just 0.44 seconds saw Malcolm fail to clinch the 200m Breaststroke bronze medal despite a strong last 50m. Malcolm meanwhile was just one place behind Colin in the 200m Breaststroke and 400m IM.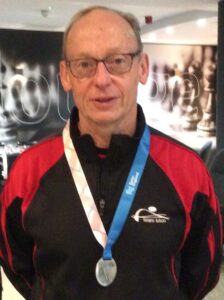 Dave Wright was our other medal winner with a silver for his 200m Butterfly in the 60 – 64 years' age group. He secured top ten finishes in all his events; 100m Butterfly (4th), 200m Freestyle (5th), 400m Freestyle (6th) and 100m Freestyle (6th). Dave's 100m Freestyle time of 1:6.24 was the fastest, well only the first, time he had swum it since 2017.
In the same age group Alastair Gibb also claimed 9th place for his 100m Breaststroke before being obliged to withdraw from the rest of the meet due to an injury.
John O'Rourke meanwhile claimed three top ten finishes in the 50 – 54 years' age group 400m IM (8th), 100m IM (9th) and 100m Backstroke (10th), smashing his entry times in four of his five races.
Sadly, due to illness Sam Bradley had to withdraw from competing in the Nationals. It was even more galling as, having already competed at the National Masters previously, this was the first year where on a trial basis para-swimmers were awarded their own medals in certain races on times adjusted for their individual classifications.
Five more Club records were broken by our Ladies.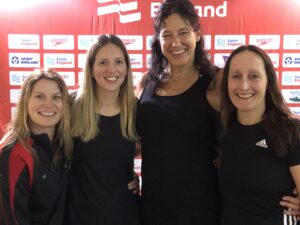 In the 45 – 49 years' age group, Kelly Cooke swam her fastest ever Masters' times in all three of her races, finishing in the top ten in each. She bettered her own Club records from 2021 in the 50m Freestyle (30.79) and 50m Butterfly (34.43), whilst also swimming a personal best in her 50m Backstroke. Karen MacKenzie matched Kelly by also breaking two of her own Club Masters' records.  In what was Karen's last year in that same age group, her 100m IM time (1:22.44) bettered her record set back in 2019. Karen then rounded off the weekend establishing new lifetime best figures for the third time this year over 200m Backstroke.
As part of the Club's ongoing friendly rivalries, Michelle Neal duly broke Kelly's 50m Freestyle Club Masters record for the 40 – 45 years' age group with a time of 30.85 seconds. Michelle also smashed her 100m Freestyle personal best time from three years ago, by almost two seconds, recording a time of 1:08.85.
After three years away from competing, Lorraine Sadler was determined to fully experience her first Nationals. She travelled up on the first day of competition just to soak up the atmosphere (to say nothing of the evening social), despite not swimming until the second day. Lorraine was pleased to beat her entry times in all three of her races in the 50 – 54 years' age group.
As ever the Nationals weekend once again proved a great social event with swimmers and travelling supporters all able to dine and relax together at the end of each day.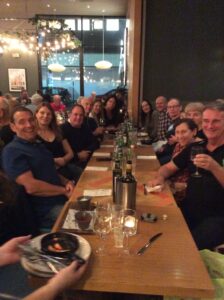 East Region Masters Championships – Oct 2022
Backstroke events at the 2023 East Region Masters Championships in Newmarket featured heavily in the Club's successes as the small squad of five competitors claimed 3 Gold, 7 Silver and 3 Bronze medals, breaking two Club Masters' records in the process.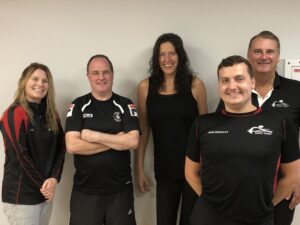 Returning to competition after three years, Lorraine Sadler came away with medals in all four of her events in the Ladies 50 – 54 years' age group.  Picking up two silver and two bronze medals, Lorraine's time of 48.64 seconds over 50m Backstroke saw her take eight seconds off the Club's previous record for her age group.
Karen MacKenzie claimed a silver medal for her 45 – 49 years' 50m Freestyle whilst being crowned champion over both 50m and 200m Backstroke. In her last year in that age group, Karen's winning time of 2:54.43 over the longer distance broke her own 2019 Club record by almost 2.5 seconds, much to her great delight.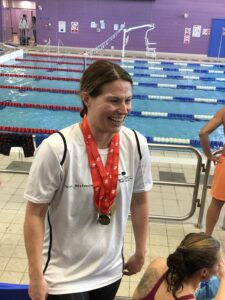 The 200m Backstroke also gave John O'Rourke a gold medal to go along with the silver he had already collected for his 200m Breaststroke in the 50 -54 years' age group.
Sam Bradley, in his last year in the 25 – 29 years' age group, competed in five events. He collected a silver medal for his 50m Backstroke whilst picking up a bronze medal for his 4 x 25m Individual Medley.
Alastair Gibb was unable to match the others' Backstroke medal winning swims. He had however earlier collected silver medals for both his 800m and 50m Freestyle in the 60 – 64 years' age group. With a recently fitted pacemaker, Alastair had also secured two golds the previous day at the South East Region's Masters, against what he acknowledges was "low level" competition.
Barnet Sprints Plus Open Meet – Sept 2022
Michelle Neal (42), Kelly Cooke (46), Karen Mackenzie (49) together with Assistant Head Coach, Dave Wright (61), showed off their sprinting skills to claim gold or silver medals in each of their events at Barnet.
Michelle, Kelly and Dave each won the 50m Butterfly in their respective five-year age groups in times of 38.22, 35.96 and 35.31seconds, with Karen finishing second behind Kelly.
Dave also just managed to edge out his younger female squad mates over 50m Freestyle to claim silver in the Men's 60 – 64 years group in a time of 31.23 seconds. Michelle and Kelly nevertheless won their respective age groups in times of 32.00 and 31.7 seconds to both be "double – gold" medalists.
Karen meanwhile claimed a gold for her winning time of 3:08.44 in the 200m Individual Medley with Dave picking up a silver medal for his time of 5:11.11 over 400m Freestyle.
Gloucester /Berks & South Bucks Open Meets – Aug & Sept 2022
The post-pandemic return of various "local" meets gave Graham Powell the opportunity to claim more Beds County and Club Masters records in his 65 – 69 years' age group.
Two of those County records came when competing in Maidenhead at the Berks & South Bucks Masters meet. With a half-way split of 2:44.28, breaking the 200m Club Masters' record set back in 2008 in the process, Graham proceeded to demolish the 400m Freestyle time by nearly two minutes. His time of 5:34.62 beat the old County record by thirteen seconds.
Despite only finishing in second place in his 200m Backstroke, Graham could take consolation and positives from beating his own Beds County and club records set in October 2021 by over six seconds. His time was 2:46.5.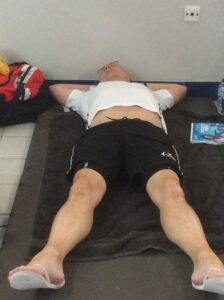 These records followed on from his four medal winning swims at the Gloucester Masters meet where Graham established a new 100m Individual Medley County record for his age group of 1:18.05.
Barnet Distance & East Region Open Water – July 2022
All three of our squad competing at the Barnet Masters' Distance Meet showed off their continuing versatility, each winning medals in their 400m Individual Medley races. Jo Mitchinson meanwhile was away from the pool, competing over 5Km at the Regional Open Water Championships.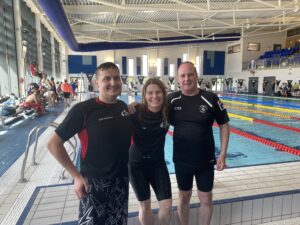 John O'Rourke claimed gold in his 50- 54 years' 400m IM. In his first race over that distance in three years, John bettered his entry time by 0.25 seconds. He also finished in second place in both his 100m Breaststroke and 100m Backstroke events.
Karen Mackenzie won both her 45 – 49 years' 400m IM and 100m Backstroke, just outside her entry times.
In the Men's 25 – 29 years' events, Sam Bradley earned a medal of each colour finishing in 1st, 2nd and 3rd places over 100m Breaststroke, 400m IM and 400m Freestyle. His 400m IM time was less than a second slower than his best, recorded back in 2019.
Over In Norwich at the East Region Open Water Championships, 43-year-old Jo Mitchinson won her 40-49 years' 5Km race. Her time of 1hour 11minutes and 39 seconds saw her qualify as the Region's second fastest representative for the Ladies 19+ years' event at the National Open Water Championships.
British Masters (LC) Aberdeen – June 2022
The 2022 British Swimming Masters Championships held in Aberdeen saw FOUR Team Luton members crowned individual champions.
 Kelly Cooke, Karen MacKenzie, Dave Wright and Graham Powell spearheaded a weekend that saw the squad of eight competitors win 6 Gold, 5 Silver and 3 Bronze medals whilst setting 4 East Region, 15 Beds County and a total of 20 Club Masters records.
Kelly Cooke, aged 46, was our youngest champion with victory in the 45 – 49 years' 100m Backstroke. She also claimed third place in the 50m Backstroke. In a busy programme, Kelly established new County records over 200m, 100m and 50m Freestyle, finishing in 4th, 6th and 7th place.  A further Club record came with Kelly's 5th place in her 50m Butterfly.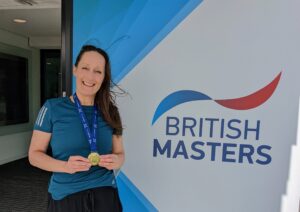 Competing at the top of the same age group, Karen MacKenzie was delighted to cap the weekend by setting a new Beds record long course time in the 200m Backstroke to claim gold, after finishing second in the 50m event ahead of Kelly.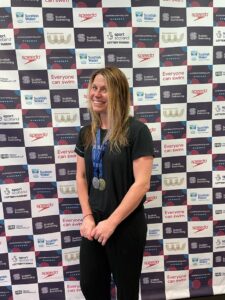 New Club records over the same three freestyle events as Kelly were set by Sharon Thompson in the 55 – 59 years' age group. Her best placing was 9th in the 100m.
In his last year in the Men's 25 – 29 years' age group, Sam Bradley competed in five events, claiming top ten finishes over 200m Freestyle and both his 100m and 200m Backstroke.
Dave Wright was the 60 – 64 years' 200m Butterfly champion, smashing the East Region record by over 30 seconds. Missing the East region record by just 0.08 seconds as he finished 4th in his 200m Freestyle, Dave nevertheless claimed a new County record for both that and his 400m Freestyle.  A further 4th place came in his 200m Backstroke.
Graham Powell won no fewer than three Gold and two silver individual medals in his individual 65 – 69 years' Backstroke and Butterfly races, setting three new East Region records and two further County records in the process.
Both Colin Mayes and Malcolm Barton achieved top ten finishes in the same age group. Malcolm lowered his own County record when touching 4th in the 65 -69 years' 100m Breaststroke. A silver medal came with his favoured 200m and that was followed by a bronze medal in his 400M Individual Medley. Colin meanwhile collected a bronze medal for his 200m Individual Medley, setting a new County record time for that and his 50m Breaststroke.
Colin was set to claim to a new 50m Freestyle County record for that 65 – 69  age group, only for Graham Powell to lower the mark with his lead off swim in the Mixed 4 x 50m Freestyle relay in the 200 – 240 years' age group. It was the first time the Club had entered a Masters' Mixed relay in national championships. The quartet of Graham, Karen, Dave and Kelly finished 6th in that event. They had previously already claimed 4th place in the age group's 4 x 50m Medley relay. With a combined age of 222 years, they were some 20 years older than each of the first three teams.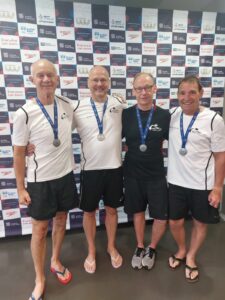 The quartet of Powell, Barton, Wright and Mayes in Men's 240 – 260 years' 4 x 100m Medley relay saw the lead change over each leg. In a nail-biting finish, they were sadly caught to miss out on gold by just 0.63 seconds.
Newmarket – April 2022
Triumphant Return To Newmarket's Masters Meet
After a two year hiatus due to the Covid pandemic, seven of our Masters made a triumphant return to the 8th annual meet in Newmarket, bringing home 14 Gold, 6 Silver, 4 Bronze medals and setting two new Beds County and three Club Masters records.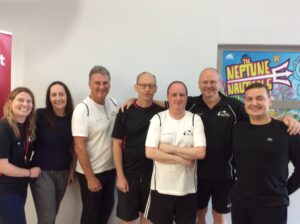 Graham Powell took three and six seconds respectively off the County's 65 – 69 years' record times with victories in both the 100m and 200m Individual Medleys. A further gold came with his 100m Backstroke but Graham was edged out into second place over both 50m and 100m Butterfly.
Dave Wright was unbeaten in all three of his 60 – 64 years' events, namely 100m Butterfly and both 200m and 400m Freestyle. Alastair Gibb collected the bronze in the 400m event and he also finished third in the 100m Backstroke.
Team Luton repeated victory in the 50 – 54 years' 200m and 400m Freestyle courtesy of John O'Rourke. He also bagged a silver over 50m Breaststroke but had to settle for 4th place over both 50m Backstroke and Freestyle.
In the Ladies 45 – 49 years' age group. Karen MacKenzie and Kelly Cooke shared the honours, each picking up three gold and one silver medal. Kelly's wins came in the sprint events, 50m Butterfly, Backstroke and Freestyle. She finished second in the 100m Backstroke having briefly set a new Club Masters record of 1:21.97 only for Karen to claim victory and take the record with a time of 1:19.30 in the subsequent heat. Karen's other victories came in the 100m and 400m Freestyle, where she was within a second of her own Club record over the longer distance. Her silver medal was in the 50m Freestyle where she was out touched by Kelly in the same heat.
Sam Bradley completed the Club's medal tally with silver medals in his 25 – 29 years' 50m Backstroke and 100m Breaststroke together with a bronze for his 200m IM, beating his entry time for all three events.

Sth East LC, Welsh LC & Bracknell : January – March
Masters' Travels Reap Records And Medals
Five of the Club's Masters travelled in various directions over the first quarter of 2022, but all were rewarded with medals of varying colours.
Sam Bradley and Karen MacKenzie ventured the furthest, to Swansea, to compete in the Swim Wales Masters Long Course meet, each returning with a silver medal.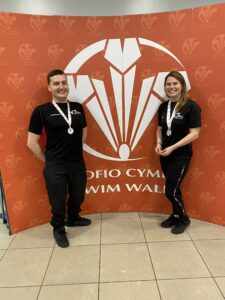 Sam's silver came in his 25 – 29 years' 20m Backstroke in a time of 3:03.71, less than two seconds outside his own Club and Beds County record set back in 2020. He did however establish new Club Masters' figures for the 50m Backstroke (40.75 seconds) whilst lowering his own Club record from 2020 for the 50m Butterfly to 39.34 secs.
Winning a Welsh bronze for her 38.70 second 50m Butterfly, Karen's silver came from her 3:06.53 swim in the 45 – 49 years' 200m Individual Medley. That time was some two seconds faster than her silver medal swim at the South East Masters Long Course championships at Crawley back in late January. Karen also won a silver at that meet for her 50m Backstroke, an event in which Alastair Gibb swam to an unexpected victory in the Men's 60 – 64 years' equivalent race.
Rather than Swansea, Dave Wright opted in March to drive the shorter distance for the Bracknell Masters Short Course meet where he won gold and broke his own County 60 – 64 years' 200m Freestyle record, lowering the time to 2:25.26. Dave also won a gold for his 100m Butterfly and a silver for his 100m IM. Colin Mayes broke the Club's 65 – 69 years' record for the 200m IM, whilst coming away with three gold, one silver and one bronze medal.
Full results can be viewed here on the swimming.org results website.