All three of our squad competing at the Barnet Masters' Distance Meet showed off their continuing versatility, each winning medals in their 400m Individual Medley races. Jo Mitchinson meanwhile was away from the pool, competing over 5Km at the Regional Open Water Championships.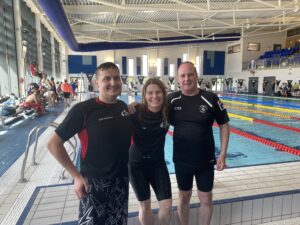 John O'Rourke claimed gold in his 50- 54 years' 400m IM. In his first race over that distance in three years, John bettered his entry time by 0.25 seconds. He also finished in second place in both his 100m Breaststroke and 100m Backstroke events.
Karen Mackenzie won both her 45 – 49 years' 400m IM and 100m Backstroke, just outside her entry times.
In the Men's 25 – 29 years' events, Sam Bradley earned a medal of each colour finishing in 1st, 2nd and 3rd places over 100m Breaststroke, 400m IM and 400m Freestyle. His 400m IM time was less than a second slower than his best, recorded back in 2019.
Over In Norwich at the East Region Open Water Championships, 43-year-old Jo Mitchinson won her 40-49 years' 5Km race. Her time of 1hour 11minutes and 39 seconds saw her qualify as the Region's second fastest representative for the Ladies 19+ years' event at the National Open Water Championships.