We had a small but focussed group of swimmers competing over the 29th April – 1st May Bank Holiday weekend at our home pool, Inspire.
The team were successful with Chantal Smith gaining a Gold (800m FC) and 2 Silvers (200m / 400m FC),  Celyn Walmsley a Gold (200m I.M) and a Silver (400 I.M), not to mention the numerous finals and Personal Best Times made in a variety of events.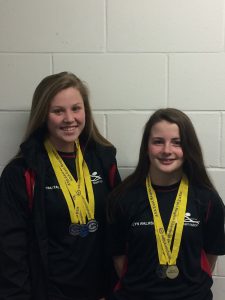 Congratulations to all the swimmers that competed. We continue to make big strides forward and everyone is proud of the progress you're making!
May is a busy month for swimmers of all ages. Our top Team Luton swimmers have two more meets coming up this month – our own Long Course Level 1 Meet (13th – 14th May) and then the East Region Age Group champs 27th – 29th May in Norwich  Our youngsters (9- 12 years) meanwhile have Round 2 of the M11 League whilst some of our Masters are travelling to Norwich, Nuneaton or Bexleyheath to compete in Open Meets.
As our Head Coach, Adam Taylor, says, "Quality process brings quality outcome! Keep up the great work".