Three members of Team Luton Masters are heading off to Budapest for the World Masters Swimming Championships next week.
Karen Mackenzie competes in the 40-44 year age group 50m and 100m Backstroke, 50m Freestyle and the 200m IM. For Karen this is her debut on the World stage having only started competing as a Masters two years ago.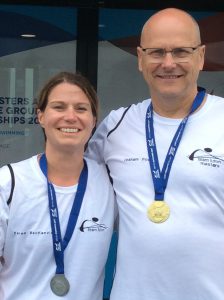 Graham Powell, who won a bronze over 50m Backstroke at the World Masters championships back in 1996, competes over 50m, 100m and 200m Backstroke plus the 50m and 100m Butterfly in the 60-64 year age group. He is ranked 6th on entry times for both the 50m Back and 100m Fly and 7th for the 100m Back.
Colin Mayes swims in the 60-64 years 50m, 100m and 200m Breaststroke  and the 200m IM.