It is a busy few weeks for our Performance swimmers competing at the British Championships, English Nationals,  National Open Water and the Swim Wales Summer Open.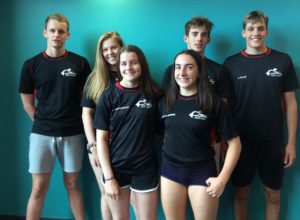 First off it's the British summer Championships up in Glasgow (23rd to 28th July) where Rhys, JJ and Celyn will be swimming for Team Luton and Matt and Chantal for Bath University and Sterling University. To watch the swimmers "live" each day click on the Youtube.com link.
At the English Summer Meet (31st July – 4th August) in Sheffield Rhys, Celyn, Matt and Chiara will all be swimming for Team Luton. This should also be live streamed from the Swim England website.
Download this Summer Meets Schedule to see on which day each of our swimmers are competing.
The Welsh Open meet (29th July – 2nd August) sees JJ, Menna Walmsley, Anna and Zara Fallon competing over in Swansea.
Chantal and Abbie Barnwell have also both qualified to swim on Monday 5th August at the National Open Water Championships, following their swims at the weekend's East Region Open Water championships.
Good luck to everyone!