Jo Mitchinson, Dave Wright and Graham Powell are all included in the World Top Ten Rankings for their Masters' swims in the lists just released by FINA.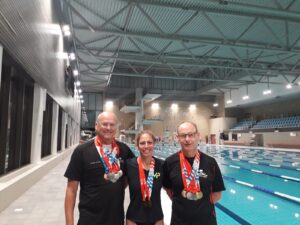 Jo was ranked 3rd (1500m Freestyle, ) 6th (400m Freestyle) and 7th (200m Backstroke) in the Ladies 40 – 44 years' age group.
Dave claimed 6th spot in the Men's 60 -64 years' 200m Butterfly.
In the 65 – 69 years age group, Graham Powell was 5th (50m Back), 6th (100m Back) and 10th (200m Back).
FINA's Top Ten relay listings were clearly incomplete, omitting all British club relay times from 2021. Other countries may also have been omitted but the English Nationals' time recorded by Graham, Malcolm Barton, Dave and Alastair Gibb in their 240 – 279 years' 400m Medley relay might have claimed them 5th spot. The combination of Dave, Alastair, Colin Mayes and Malcolm potentially also recorded the 8th fastest time for their 240 -279 years' 800m Freestyle relay.