Team Luton ended the 2016/17 competitive season on a high with all its competitors making finals at the British and English Summer Championships which were held over successive weeks up in Sheffield.
Chiara Rogers smashed her personal best times first in the heats and then again in the finals of both the 14 year old's 100m and 200m Breaststroke of the English Championships. She finished 5th in the 100m in a time of 1:17.02, an improvement of over 1.5 seconds. In qualifying for the 200m final as 7th fastest, Chiara had already knocked over a second off her personal best time. Come the final, Chiara found another three seconds to touch home in 5th place in a time of 2:44.58.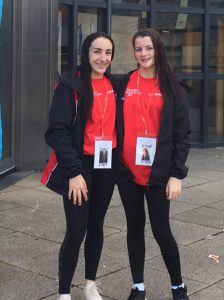 Having qualified for four events in the 16 year old's age group, Celyn Walmsley made the finals of both her 400m Individual Medley and 200m Breaststroke, finishing 9th in both events. Celyn also finished 14th in both the 100m Breaststroke and 200m Individual Medley.
Away from the Ponds Forge Pool complex, Nicola Pasquire finished in 9th place in the 19 years and over Swim England's 5k Open Water in a time of 1:07.03.59. That was 43 seconds faster than she swam at the East Region Championships.
At the British Summer championships, Chantal Smith finished 9th in the 17 year olds 400m Freestyle in a time of 4:29.79. In the 800m Freestyle Chantal beat her own Beds County records set earlier this year by two seconds. Her time of 9:12.11 earned her 10th place and marked an overall improvement of 11 seconds over the past year.
Long standing Team Luton swimmer, Matthew Wright swam as a member of Bath University, having just returned from his first year's studies. Matthew swam a personal best time by over 14 seconds in the British Championships 1500m Freestyle. At the English Championships a week later, he qualified fastest for the 400m Freestyle final in a time of 4:07.63, nearly two quicker than his entry time from April this year. At the half way stage in the final Matthew was only in 3rd place, turning at 200m in a time of 2: 00.50 , some 1.48 seconds behind the second swimmer. In a perfectly paced race Matthew came home strongly to claim gold in a time of 4:05.12 and by a winning margin of over two seconds.
These achievements at the Summer championships marked the end of Adam Taylor's first season as the club's Head Coach where significant improvements have been made by swimmers of all ages. Indeed, in the year to 30th June an amazing total of 118 club record swims were achieved.